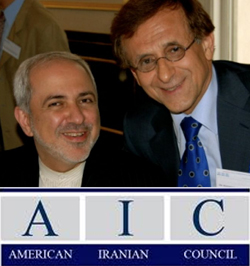 The American Iranian Council (AIC) is an advocacy organization founded in 1997. Financed and supported by US oil corporations, the AIC promotes friendship with Iran and removal of sanctions. AIC's president Amirahmadi has publicly called AIC "the Iran lobby in US."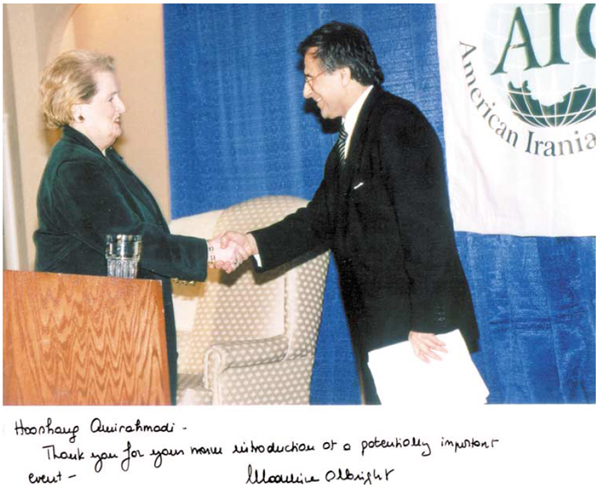 Background: Oil corporations find common ground with Iran
The American Iranian Council (AIC) is a pro-Tehran, anti-sanction advocacy organization that was founded in 1997 and remained influential until 2001. AIC is a revealing example of the tacit collaboration between US oil corporations and the Iranian regime unified in their goal to lift economic sanctions and influence US policy toward Iran.
AIC's board has included former US diplomats and CEOs from oil corporations and at the same time, AIC's president Hooshang Amirahmadi has received political and financial support from Tehran and he has publicly called AIC a lobby organization on behalf of Iran. (Amirahmadi's interviews with government controlled newspaper in Iran here and here)
AIC was officially founded in 1997 but its origin goes back to the early 1990s during the second term of Hashemi Rafsanjani's presidency when Iran launched a charm offensive toward the US oil corporations and signed a pre-agreement with Conoco oil for a project in Iran. Then, the US oil giants started a campaign to soften the public opinion about Iran and allow the US administration to green light business with Iran.
This campaign was also supported by the Iranian regime and as a result, Hooshang Amirahmadi, a University of Rutgers professor who had previously worked with Iranian government, launched a series of "Iran-US conferences" to promote friendship between the two countries. (See pictures here and here)
Amirahmadi told an Iranian newspaper that he coordinated this initiative with theIranian ambassador to the UN.
Amirahmadi's main partner in this campaign was Gary Sick, a former White House staffer who launched his "Gulf 2000" project in 1993 to improve US-Iran relations.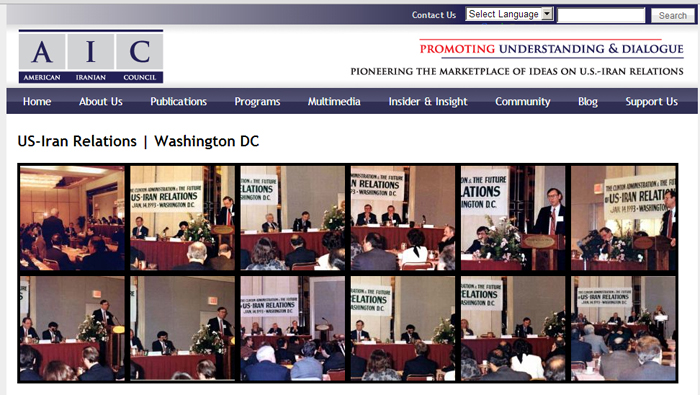 Sick's project was funded by US oil corporations, and Amirahmadi also reported in his CV that he received $350.000 between 1993 to 1996 from Oil companies to organize these conferences.
This anti-sanction campaign by Amirahmadi and Sick took on a new dimension in 1997 when US corporations launched a large-scale lobbying campaign to lift US sanctions against Iran.
1997 creation of USAEngage
In 1997 the so-called reformist Mohammad Khatami became president and Iran launched a charm offensive to soften Western attitudes toward Iran and reduce the pressure and sanctions.
The American business interests grasped this golden opportunity. TheNational Foreign Trade Council (NFTC), representing large US corporations, launched its lobbying arm called USA*Engage and begun a large scale lobbying campaign to change US policy with Iran and remove sanctions.
In an interview in 1997, Gary Sick explained this new lobbying campaign:
Q: Do you think business groups like USA Engage will be able to have an impact on removing these sanctions?
A: I think in the beginning, the business community was not going to challenge these laws because first of all they did not have much of an economic impact, and secondly they did not want to be seen as questioning U.S. national security interests.
But now, there are so many laws and such huge economic losses that businesses have begun to organize. USA Engage now includes not all but most major U.S. corporations and in time they will have an impact. They are already backing bills in Congress which demand that before any new sanctions are imposed, there must be a detailed cost-benefit study to see if it's worth going ahead.
Q: Just a couple of years ago you were among the very few who believed in rebuilding relations with Iran. But now it seems all top U.S. foreign policy experts agree with you, most recently Kissinger.
A: A huge array of experts and former officials, republican and democrat, now believe that U.S. policy toward Iran should change. I would like to think that I and a few others brought about this new thinking, but it's not true. These individuals have done their own studies independently and come to this conclusion. A lot of them are consultants for major oil interests in Central Asia and elsewhere in the region.
Creation of Iranian-American organizations
However, to bolster its legitimacy this lobbying coalition of US business interests needed the input and support of Iranian-American organizations. This show of support was vital to securing friendlier policies toward the Iranian regime. In 1998 Gary Marfin, Conoco's manager for government affairs, explained this strategy and declared that "the company's alliance with Iranian-Americans is part of its general opposition to economic sanctions."
In 2001, Peter H. Stone also reported in the National Journal: "Red Cavaney, the president of the American Petroleum Institute and his allies are in the midst of a lobbying campaign aimed at persuading members of Congress and Administration officials to relax sanctions against investments in Iran.... For extra help on the issue, oil companies are also banking on a grassroots organization of Iranian-Americans to lend a hand." (National Journal, 27 April 2001)
The desire to have an "Iranian voice" in Washington to promote such friendlier policies and to oppose sanctions was also shared by the Iranian regime. Thus, the common cause between American business interests and the Iranian regime helped create several Iranian-American organizations that received simultaneous support from Tehran and the trade lobby in Washington.
Thus, the AIC and several other Iranian-American organizations were created in 1997. AIC's board was filled with senior executives from oil sector including Halliburton, Chevron, Exxon Mobile, and other corporations.
AIC's activities
In its mission to garner friendlier policies with Iran, the AIC introduced a series of Congressional briefings and conferences with extensive media coverage(see AIC report). At the same time Khatami, the new Iranian President, was talking about the "dialogue of civilizations" and promising a pragmatic Iranian foreign policy that would end hostilities toward the West.
The Clinton administration was charmed by Khatami and the AIC's campaign found receptive ears in Washington. Between 1997 and 2001, the AIC became the center of gravity on Iran issues in Washington. Pundits, experts, politicians and lobbyists met to promote the Iranian charm offensive and change US policy toward Tehran.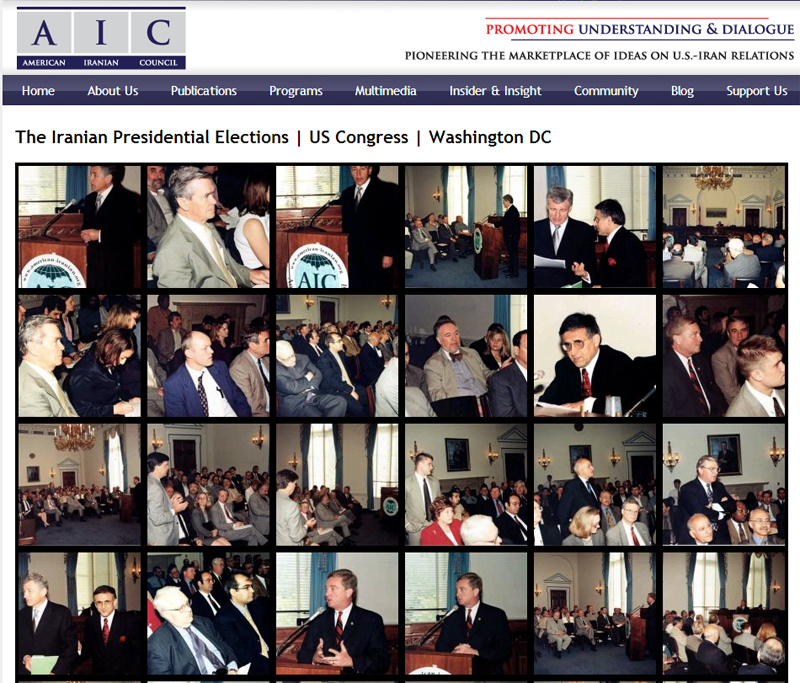 Kenneth Pollack, a member of the National Security staff in the White House during President Clinton, explained the US attitude toward Iran: "In the Clinton Administration in 1999 and 2000, we tried, very hard, to put the grand bargain on the table. And we tried. We made 12 separate gestures to Iran to try to demonstrate to them that we really meant it, and we were really willing to go the full nine yards and put all of these big carrots on the table if the Iranians were willing to give us what we needed." (Brookings Institutions, Saban Center, conference on November 23, 2004)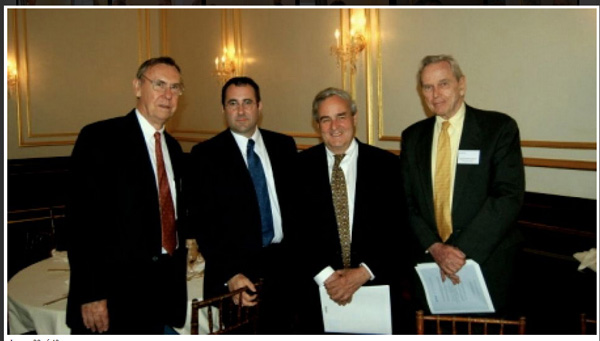 Gary Sick (left) and William Miller (3rd from left) two of AIC borad members
The AIC's activities culminated in March 2000 when Secretary of State Madeleine Albright spoke on March 17 at an AIC reception and extended a friendly US hand to Iran when she apologized for US involvement in the military coup that toppled Mossadegh's government in 1953.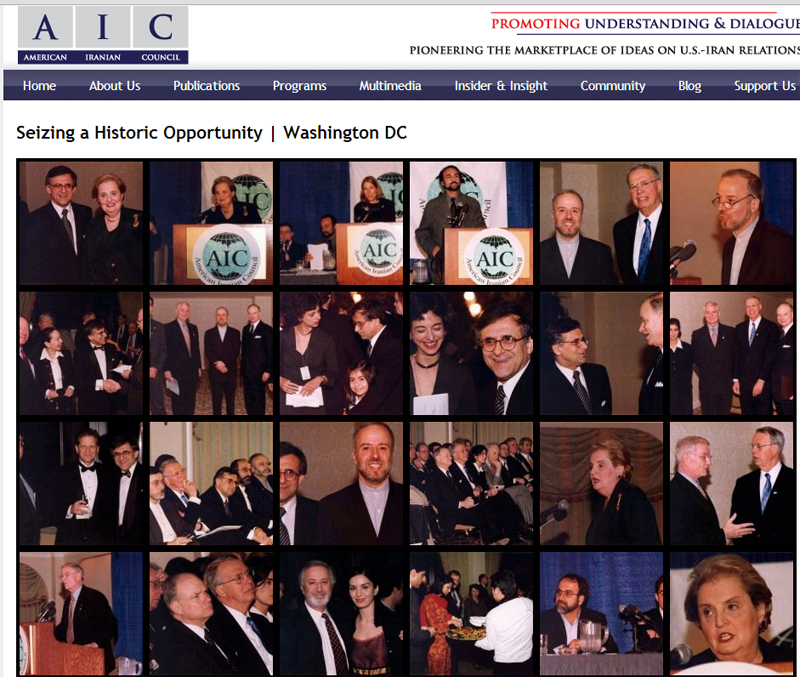 See also AIC's reports obtained during a defamtion lawsuit: Report 1 - 2- 3
AIC's funding
TheAIC and Amirahmadi have received financial support from US oil corporations and theIranian regime. Amirahmadi's own CV and its updated short version that was posted recently, reflect the numerous and generous donations from various US oil corporations and the Iranian regime's New York-based Alvavi In Foundation.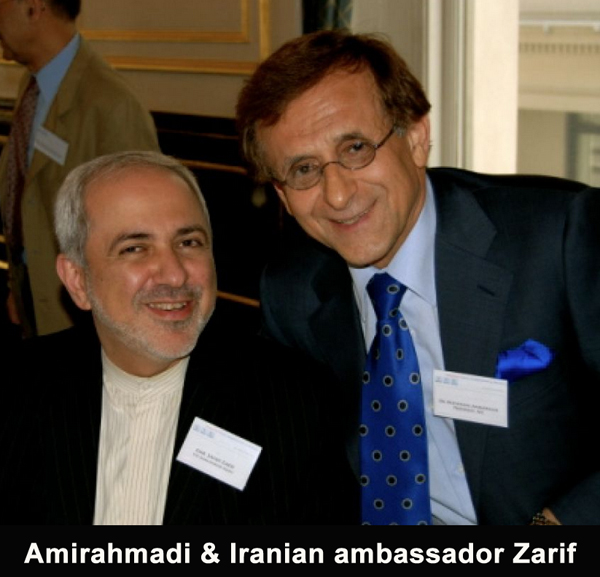 In 2009 US authorities seized some assets of theAlavi Foundation which owns properties and spends millions of dollars each year to support universities, religious and cultural centers around the US. According to court documents, the Iranian ambassador to the UN supervised the allocation of Alavi's funds to the grantees.
The AIC's 2000 annual report declared, "[t]he organization initially depended on contributions by it's Board members and a few corporations, predominantly in the oil sector" (p. 32).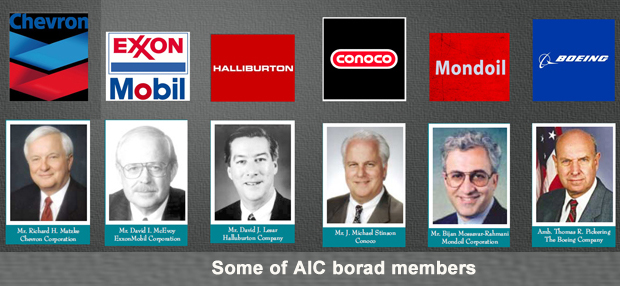 Trital Parsi who currently serves as the president of NIAC, another pro-Tehran advocacy organization, was the development director of the AIC in 2001. In a series of documents obtained during a defamation lawsuit involving Parsi, We receive insight into the AIC's status and funding.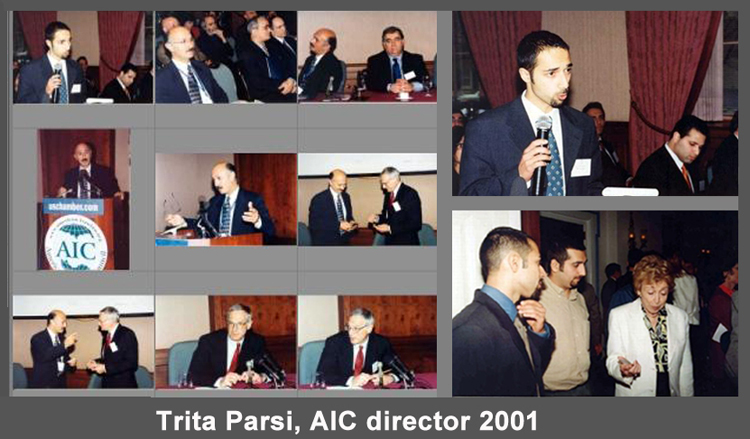 In one document written by Parsi in 2002 and sent to a Washington lobbyist, he declared:
"American Iranian Council has been the most prominent Iranian-American group in US politics for the last five years. But the organization has lost most of its credibility due to the Amirahmadi's close relations with the conservative camp in Tehran. He has lost the support he enjoyed from US oil companies and his attempts to court the Iranian-American community has been futile.
Financing: Iranian-American organizations have in the past targeted the oil companies for financial support. This strategy has been a two-edged sword. On the one hand, the oil companies have been relatively dedicated to the cause and have been generous supporters of groups such as AIC. On the other hand, oil companies have a bad reputation among Iranian-Americans and are easily depicted as greedy and insensitive to human rights concerns in the media."
Parsi suggested that these lobby organizations should give a human face to their lobby:
"Despite its predominantly business oriented constituency, it is essential that the lobby creates a "human face" for its aims and goals. AIPAC successfully painted the opponents of the Iran Libya Sanctions Act as "greedy businessmen who had no scruples when it came to doing business with terrorist regimes." The oil companies failed to characterize their campaign with "human concern for the well-being of innocent Iranians stuck with a dictatorial regime" or "support for the poor mid-Western family father who lost his job due the sanctions." The human element is essential both when it comes to attracting support among Iranian-Americans and when it comes to winning the debate and the votes on the Hill."

2001, Bush victory intensified anti-sanction lobby
In 2000, George W. Bush and Dick Cheney Filled the Republican Presidential ticket and this seemed like a promising outlook for the US business lobby, and notably the oil sector. This combination seemed to fortell sucess for the AIC and their allies because Bush was close to the oil corportaions, Cheney was the chairman of Halliburton and both had previously opposed US sanctions against Iran.
In an article entitled: "better for business", Gary Sick detailed Cheney's previous statements aginst sanctions and argued that a Bush-Cheney presidency would ease such sanctions against Iran
In 2001, after Bush's victory, the Iran Lybia Sanctions Act (ILSA) came before Congress either to be renewed for five years or to be terminated. Supported by the White House, the oil lobby intensified the anti-sanction campaign to prevent ILSA's renewal.
In 2000, AIC's president Amirahmadi arranged a meeting betwenn the speaker of Iranian parliament and top executives from Exxon Mobil, Chevron Corp and Conoco in New York.
In 2000 and 2001, several CEOs from oil corporations including Conoco travelled to Iran. It was during this period of time the anti-sanction lobby reached its apogee.
Peter H. Stone detailed these efforts in an article published by National Journal in April 2001:
"Red Cavaney, the president of the American Petroleum Institute and his allies are in the midst of a lobbying campaign aimed at persuading members of Congress and Administration officials to relax sanctions against investments in Iran and Libya.
Oil behemoths such as Chevron Corp., Conoco, ExxonMobil Corp., and Phillips Petroleum Co. have been working aggressively alongside big business coalitions, such as USA*Engage, a group of 670 U.S. companies, to fight unilateral sanctions. Industry lobbyists want Congress to resist appeals from the American Israel Public Affairs Committee for a five-year renewal of the Iran-Libya Sanctions Act, which is aimed at curbing foreign energy investments in those two countries.
Industry lobbyists say they have been heartened by statements critical of sanctions by Secretary of State Colin Powell and Cheney, the former chief executive of Halliburton Co. who chairs the Administration's energy task force.
USA*Engage lobbyists have had meetings with top Bush Administration officials, including Lewis Libby, Cheney's chief of staff, Richard Haass, the State Department's director of policy and planning, and Ted Kassinger, the general counsel at the Commerce Department, to press their concerns. USA*Engage and the National Foreign Trade Council, another large business coalition seeking to end the sanctions, have visited about 50 congressional offices since early March to make their case. "Our overall philosophy is that being engaged with a country is better than running away," says Deline, who also lobbies for Halliburton. USA*Engage is also weighing whether to launch advertising efforts in some key congressional districts. The coalition is using the Fratelli Group, a public affairs firm, to help get its message out to the media.
Prominent oil industry executives, such as Archie Dunham, the chief executive officer of Houston-based Conoco, have also weighed in. On March 21, Dunham visited Washington to meet with Cheney... Conoco and two other oil companies recently hired the Duberstein Group to help make the case for lifting the Libya sanctions.
The fight against the Iran-Libya sanctions has also garnered support from an ex-member of Congress who sits on Chevron's board. J. Bennett Johnston, a Louisiana Democrat who used to chair the Senate Energy Committee and was part of a Chevron contingent that visited Iran earlier this year, says the sanctions are counterproductive."
(National Journal, 27 April 2001 and also see: See also USAEgage journal archive)
2001, the turning point
In June 2001, the US Congress unanimously extended the Iran Lybia Sanctions Act (ILSA) for five more years. Less than ten members of Congress opposed the extension. This was primarily due to the Iranian's failure to reciprocate President Clinton's unilateral goodwill gesture and change its radical foreign policy in the Middle East.
A few months later, the terrorist attacks of September 11 changed US Middle East policy and the administration became preoccupied with Iraq and Afghanistan. No new sanctions passed against Iran for the next six years, and US corporations and oil giants were able to use their foreign subsidiaries to detour the ILSA. Consequently, USAEngage's interest on Iran issues were temporary put in the back shelves, and the AIC's funding diminished and it became irrelevant.
In 2002, theAIC's director Trita Parsi launched a new organization called NIAC which has become the dominant pro-Tehran advocacy organization in Washington.
The AIC continues to exist and sporadically organizes Congressional briefings and conferences in Washington.
This report reflects the opinion of Iranian American Forum editors. This opinion is made after thorough examination of public documents. We welcome open discussion and encourage the readers to send us their comments, corrections and objections.