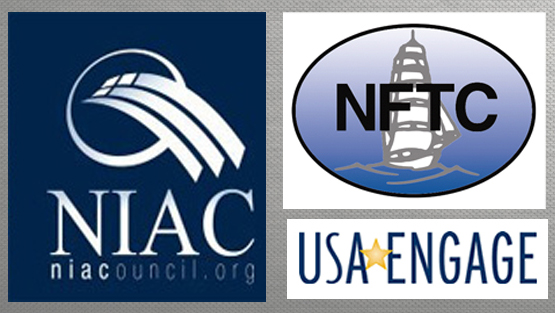 NIAC's main lobby partner in the U.S. has been the National Foreign Trade Council (NFTC), representing large US corporations and its lobbying arm USA*Engage. NIAC's internal emails and documents show their joint lobby in Congress to oppose US sanctions against Iran
---------------------------------------------------------
Background on NIAC's internal documents released during a defamation lawsuit
The National Iranian American Council (NIAC) is a Washington-based grassroots lobbying organization that was founded by its president Trita Parsi in 2002. NIAC lobbies for a friendlier policy with Iran and opposes economic sanctions. NIAC maintains an active presence in Washington D.C., particularly working to influence members of Congress and the White House on their opinions about Iran. The government press in Tehran calls NIAC the "Iran lobby in US."
Between 2007 and 2008, the NIAC and its president Trita Parsi were faced with growing criticism from the Iranian-American community that questioned the NIAC's ties to the Iranian regime and its lobby in favor of Iranian rulers.
NIAC launched a campaign of intimidation against journalists, activists and media outlets. Their hope was to silence all opposition but this campaign failed. Finally, in April 2008 NIAC decided to file a defamation lawsuit against one of its main critics, Hassan Dai, to break him under the financial burdens of the lawsuit and as a result, to send a message to other critics.
On September 13, 2012 U.S. District Judge John Bates dismissed the lawsuit and in a second ruling, sanctioned NIAC and Trita Parsi for discovery abuses including false declaration to the court and ordered them to pay $184000 for defendant's legal expenses. (Read More: NIAC lost defamation lawsuit and was punished for legal abuses)
The lawsuit obliged NIAC to release part of its internal documents that revealed the organization's ties to Tehran and some of its illicit activities.
Some of these documents show that NIAC defrauded IRS, lied to the court, defrauded NED Congressional funds,coordinated its lobby with Iranian ambassador to the UN and collaborated with two individuals named by US Congressional report as the agents of the Iranian intelligence ministry.
Court documents also show that in 2002-2003, while president of NIAC, Parsi profited from his presence inside Congress and his close relationship with Congressman Bob Ney to prepare reports about the latest developments regarding Iran and sent these reports to Atieh Company in Tehran. Atieh paid Trita Parsi for his work. Parsi continued to send reports about his lobby activities to Atieh director in Tehran. (Read more: "NIAC's partners in Iran: Iran's economic mafia and regime associates")
Introduction word:
In 2002, Trita Prasi, president of NIAC sent aa memo to Washington lobbyist Roy Coffee and explained the nature of NIAC lobby, Oct. 2002:
Although the mission of the proposed lobby should be to improve relations between the US and Iran and open up opportunities for trade... and despite its predominantly business oriented constituency, it is essential that the lobby creates a "human face" for its aims and goals. AIPAC successfully painted the opponents of the Iran Libya Sanctions Act as "greedy businessmen who had no scruples when it came to doing business with terrorist regimes." The oil companies failed to characterize their campaign with "human concern for the well-being of innocent Iranians stuck with a dictatorial regime" or "support for the poor mid-Western family father who lost his job due the sanctions." The human element is essential both when it comes to attracting support among Iranian-Americans and when it comes to winning the debate and the votes on the Hill.
The National Iranian American Council (NIAC)
NIAC is a Washington-based grassroots lobbying organization that was founded by its president Trita Parsi in 2002. NIAC lobbies for a friendlier policy with Iran and opposes economic sanctions. NIAC maintains an active presence in Washington D.C., particularly working to influence members of Congress and the White House on their opinions about Iran. The government press in Tehran calls NIAC the "Iran lobby in US."
Creation of NIAC
In 1999, Hossein Alikhani, an Iranian oil businessman living in Cypress organized a conference to discuss how to improve US-Iran relations and remove sanctions. Alikhani had been previously arrested by the FBI in 1991 and jailed in the US for violating the sanctions against Libya.(See documents)
Among the participants in the 1999 conference were Richard Sawaya, chief lobbyist at oil giant Arco and two directors of Tehran-based Atieh Group, a business conglomerate that helps foreign companies do business in Iran and acts as intermediary between these companies and I government.
In this conference, Siamak Namazi (Atieh's partner and managing director) and Trita Parsi (a young Iranian-Swedish living in Sweden) presented a roadmap to create an Iranian-American lobby in Washington to influence US policy with Iran and eventually remove sanctions. (See the report on NIAC relation with Atieh)
Two years later in 2001, Parsi was hired by the US based American Iranian Council (AIC), an anti-sanction and pro-Tehran organization and moved to US. He worked less than a year for AIC but this was a good professional experience for him to know the anti-sanction lobby groups build his network of donors and sponsors and prepare the creation of NIAC. (See also, AIC president Amirahmadi's letter and Parsi's report to AIC board members)
In June, he began consultation for the creation of NIAC. A series of emails that were obtained during the defamation lawsuit, show that three month before the launch of NIAC, Trita Parsi and some of his lobby partners discussed the creation of a lobbying organization to remove sanctions against Iran. (see documents)
They discussed if the new lobbying organization should first target the lifting of sanctions on Iranian NGOs and later ask for the removal of all sanctions, or if it would be better for the organization to begin with opposing sanctions altogether. Parsi favored this approach and argued that his lobby's partners in Congress were not interested in NGO issues.
NIAC's lobby
During the June discussion, Parsi and his partners discussed the legal structure of the organization that could permit lobbying activities:
"All parties expressed concerns regarding the legality of 501 C3s getting involved in lobbying. Mr. Oliner pointed out that 501 C3 are not allowed to influence legislation, whether it be a complete lifting of sanctions or getting an exemption to NGOs through law. Mr. Parsi had in the email dated June 17, 2001 pointed out that one solution was to incorporate a new and legally and financially separate organization."
After NIAC was created in early 2002, Parsi worked with two Washington lobbyists Roy Coffee and Davis Disrafano to create this new organization that would undertake the lobbying activities of NIAC. The collaboration between Parsi and two lobbyists was partly revealed in 2006 during the Jack Abramoff scandal as the lobbyist Coffee sent a letter to the Dallas Morning News and explained his collaboration with Trita Parsi. But NIAC's internal documents released during a defamation lawsuit, clarified this affair. (See Documents)
Among these documents is Parsi's memo to Roy Coffee, entitled "Towards the creation of an Iragnian-American lobby", in which he detailed his plan to create this parallel organization. This organization was to be called "the National Association of Iranian Americans" (NAIA).
In his memo Parsi explained that the real mission of this lobby should be to improve US-Iran relation and open up trade opportunities . He emphasized that the lobby's main partners and financial supporters are US corporations:
Iranian-American organizations have in the past targeted the oil companies for financial support. This strategy has been a two-egged sword. On the one hand, the oil companies have been relatively dedicated to the cause and have been generous supporters of groups such as AIC. On the other hand, oil companies have a bad reputation among Iranian-Americans and are easily depicted as greedy and insensitive to human rights concerns in the media.
It would be a wise strategy of the proposed lobby to seek limited support from US oil companies. Oil companies should not be the initial sponsors of the lobby and their share of the lobby's budget should perhaps not exceed 10 per cent. Diversification is the key.
The lobby should target business with positive images that have a strategic interest in trade with Iran. These companies include Motorola, who would benefit greatly from the 70 million strong Iranian telecom market, IT companies who could benefit from Iran's cheap yet highly skilled labor (just as they do in India), construction and irrigation companies, soft drink companies (displeasure with US policies in the Middle East has allowed Iranian soft drink companies to grab market shares from Coca Cola and Pepsi in many Persian Gulf countries) and fast food chains.
Parsi's collaboration with two lobbyists to launch NIAC's lobby failed because the Iranian Americans ignored NIAC and the organization lacked necessary recruits for its grassroots lobby. Moreover, the extension of Iran Libya Sanctions Act (ILSA) in 2001 by the Congress discouraged the US corporations to continue their large scale lobby to lift the Iran sanctions and as a result, their support to Iranian-American organizations like NIAC diminished.
But the situation changed in 2005-2005 and the US trade lobby re-launched its lobbying campaign and revived their collaboration with NIAC.
Documents: NIAC and USA-Engage Joint Lobby After 2007
NIAC's main lobby partner in US has been USA*Engage that was created in 1997 when the so-called reformist Mohammad Khatami became president and Iran launched a charm offensive to soften Western attitudes toward Iran and reduce the pressure and sanctions.
The American business interests grasped this golden opportunity. The National Foreign Trade Council (NFTC), representing large US corporations, launched its lobbying arm called USA*Engage and begun a large scale lobbying campaign to change US policy with Iran and remove sanctions.
NIAC joint lobby with USA*Engage started in 2007. Some of NIAC's internal emails released during the defamation lawsuit show the nature and extent of this joint lobby. These emails are compiled here.
The emails show how the US trade lobby is using NIAC to legitimize its anti-sanction lobby. NIAC presents itself as the representative of the "Iranian-American" community, frames the anti-sanction campaign as being the concern of Iranian-Americans and consequently humanizes the campaign. The review of email exchanges between NIAC and USA*Engage are revealing in this regard. For example, Jake Colvin, the director of USA*Engage wrote to Parsi in April 2007:
"We hear that the attached re-draft of HR 957 – one of the Iran sanctions bills – is headed towards the suspension calendar, possibly very soon… we are concerned with Section 2 for the reasons described below. You may wish to touch base with your contacts on the House side."
Upon Colvin's request, NIAC's chief lobbyist in 2007 Babak Talebi, contacted Congressional offices and asked for meetings to discuss the sanction bill. In Talebi's email to Jake Colvin, he wrote:
"Below you will find the list of suggested Republican members that we may wish to target based on relevant committee assignments and their neutral to positive positions on our issues. If any of you have specific suggestions on members to add or strike from this list, please let us know."
In his request to Congressional offices, Talebi wrote:
"Dear Mrs. Sutton, I am writing on behalf of a group of organizations that are deeply concerned about the path of US-Iran relations and the policy choices and issues facing the 110th Congress. We would like to meet with you to discuss Representative Roskam's positions on these policy issues and would appreciate an opportunity to visit with your office on Thursday June 14th."
Two months later in July, Jake Colvin asked NIAC to profit from the summer and arrange more meetings with Congress members. In his email, Colvin wrote: "Are we going to start up more meetings on the hill in the coming weeks? August might be spotty with schedules (theirs and ours) but also might be a good time to catch up with staffers who are around."
Quickly, Talebi started to schedule new meetings in Congress but he needed more advice from Colvin and asked: "I can coordinate our next set of meetings for August - but I would like to get your input on which committees to target for August."
Colvin responded: "I'd recommend targeting, in this order: Senate: Banking, Foreign Relations, Finance - House: Foreign affairs, Financial services, Ways and Means."
A few months later in October, several states planned to adopt legislations that allowed them to dissociate from companies that do business with Iran. Colvin sent an email to NIAC and asked them to launch a campaign against these bills. Colvin's email seems more like an order than a request:
"All, There are a number of Iran divestment bills moving in the States, including a couple that have not been formally introduced yet (MA, MI, PA). Does it make sense to put something together on this? An update for a broad coalition, an op-ed, reaching out to legislators or grassroots, something else?"
As these emails show, NIAC acts as the face of anti-sanction lobbies in Congress. NIAC's use of its "Iranian" credentials to serve the interests of trade lobby was not limited to US corporations. Another email shows the foreign companies were also served by NIAC. In a September 2007 email, NIAC's new chief lobbyist Emily Blout wrote to Parsi, her boss:
"Trita, Simon Weber of the Organization for International Investment (OFII) asked to meet with us to discuss HR 1400 and the prospect of working together on the bill, presumably when it goes into conference. OFII represents over 160 U.S. subsidiaries of companies headquartered abroad and is particularly interested in provisions that would hurt these companies and damage US standing with its allies. I thought Babak and I could meet with Simon and another staff member on Monday. I suggest it be a quick preliminary meeting during which we can gage the benefits of collaborating with OFII further. Let me know what you think."
After their meetings, Blout wrote to Simon Weber: "Hi Simon, It was great meeting with you today. Babak will be in touch with you about allies on the sanctions issue and I will keep you up to date on the developments with the Smith Amendment. I look forward to working with you in the future!"
In response, Simon Weber offered to help NIAC organize a briefing in the Senate: "When was the last time you did a briefing on the Senate side? It might be a worthwhile exercise to do some education. FYI -- I have heard Smith's S.970 might be moving in the fall."
Campaign for New American Policy on Iran (CNAPI)
NIAC collaboration with USA*Engage was also carried through a coalition of two dozen groups that was formed after 2008 and was called the Campaign for New American Policy on Iran (CNAPI). The US anti-war movement was the main component of this coalition. (See documents)
Following the US invasion of Iraq in 2003, the anti-war movement and opposition to George Bush's policy in the Middle East gained support in the US. In 2005, after Ahmadinejad became president, Iran resumed its nuclear activities and the hostilities between Iran and the West increased. As a result, the US anti-war movement feared a new war in the region and voiced its concern and criticized US animosity toward Iran.
As the anti-war movement's opposition to US policy toward Iran became more vocal, the Iranian regime, its American proxies and US corporations decided to use this popular movement in their lobbying activities and further their political agenda. (see the report titled: "Relation and cooperation between Iranian regime and American anti-war groups")
After 2005, some of peace groups came together and worked together to prevent a war with Iran. NIAC joined them and the CNAPI was officially formed. In 2008, NIAC took control of this coalition, asked USA*Engage to join them and morphed this coalition to a strong lobbying force to oppose US sanctions against Iran.
During the defamation lawsuit , A report written by Parsi in 2007 and sent to his Tehran based lobby partner Siamak Namazi was released in which he explained the activities of anti war coalition and how it could be morphed to an anti-sanction lobby. Parsi's report is titled the "lobby groups":
As of early 2005, Washington's heated rhetoric over Iran has attracted the attention of a variety of interest groups eager to prevent the escalation of tensions in the Middle East and the prospects of a war between the US and Iran. These groups have managed to build unprecedented support in Congress in favor of dialogue and against military action among progressive Democrats as well as conservative Republicans on Capitol Hill.
This coalition of pro-dialogue and anti-war entities consists of a diverse group of organizations ranging from arms control organizations, to Iranian American organizations, to religious groups. Key players in this coalition are the Center for Arms Control and Nonproliferation, which coordinates a coalition of approximately 50 organizations, MoveOn and the National Iranian American Council.
While these groups have focused extensively on passing measures to reduce the risk for war with Iran, little attention has been paid to efforts to intensify sanctions against Iran. Furthermore, while a momentum exists for anti-war measures, no comparable opportunity exists currently for an anti-sanctions campaign. Nor is the coalition of disarmament, religious and progressive groups best suited to take on this issue. Here, the absence of pro-business interests on Capitol Hill active constitutes a key point of advantage for AIPAC.
In his report, Parsi explained the importance of bringing in the pro-trade lobby group and notably USA*Engage:
Pro-Business groups
With the exception of USA Engage, American businesses and oil companies have after September 11 next to eliminated their efforts on Capitol Hill in favor of greater trade and contacts with Iran.
USA Engage is a coalition of approximately 500 major US companies which has retained a distant interest in the Iran issue, though the coalition has devoted little resources towards promoting trade or preventing new sanctions from being imposed. In particular, the recently imposed UN sanctions have granted the sanctions track with Iran new legitimacy and made efforts to oppose such measures on trade grounds more difficult.
However, initial efforts are currently being made to make align the trade groups with the pro-dialogue coalition and frame sanctions an initial step that invariably will lead to war. If such a coalition of pro-trade and pro-dialogue groups can be formed, the current momentum for sanctions may be significantly hampered.
Conclusion
The balance of power on Capitol Hill is currently shifted in favor of sanctions on Iran but against military action. AIPAC continues to seek both military strikes against Iran and draconian sanctions and has benefited from the absence of active lobbying by pro-trade groups. A change in heart by pro-trade coalitions may significantly hamper efforts to have Congress impose new draconian sanctions on Iran. This is great significance since Congressional sanctions are far more difficult to undo than those imposed by the Executive Branch.
A year later in 2008, NIAC became the coordinator of this coalition, it was named CNAPI, USA*Engage joined it and their focus turned toward lobbying against sanctions. Some of the coalition meeting notes and relevant documents has been posted here and the review of these documents gives a basic understanding about the coalition's work and its agenda.
CNAPI was very influential between 2008 and 2010 and effectively shaped US policy with Iran. In their December 18, 2008 meeting, NIAC representative declared that the coalition was the "center of gravity on Iran issue" in the Congress. (see also the report that explains how CNAPI lobbied against nomination of Dennis Ross)
The CNAPI format ceased its activities in 2010 but the collaboration between NIAC, USA*Engage and anti-war groups continues and they work together to influence US policy with Iran.
This report reflects the opinion of Iranian American Forum editors. This opinion is made after thorough examination of public documents. We welcome open discussion and encourage the readers to send us their comments, corrections and objections.