Corrupted and convicted Congressman Bob Ney was bribed by two Iran related businessmen and helped them to buy a VIP airplane for Iranian leaders. Ney was Trita Parsi's boss and his close ally for 10 years. Together, they lobbied in Congress for friendlier policy with Iran and removal of sanctions
Summary
Former Congressman Bob Ney from Ohio (1995-2006) is one of the most corrupted US politicians in recent years who was finally caught by the justice system when the Jack Abramoff lobbying and corruption scandal erupted (in 2006). Abramoff and Ney operated a most elaborately fashioned web of money for political favors. Ney pleaded guilty and was sentenced to thirty months in prison.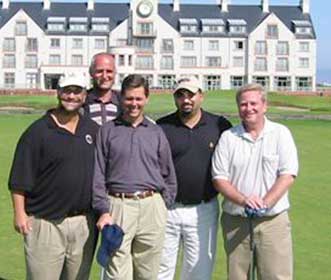 Bob Ney and his corruption accomplice Jack Abramoff
Many American know Bob Ney as one of the most hawkish politicians who ardently pushed for the US invasion of Iraq and was nicknamed the Freedom fries Congressman. In 2003, as Bush administration was preparing his war machine, France opposed the invasion of Iraq. Therefore, Bob Ney who was very angry at France, organized a media show and changed the name of French fries to Freedom fires.
The media has extensively reported on Ney's corruption, but little attention has been paid to his role in pro-Tehran activities in Washington. While serving in Congress, Ney actively worked to promote friendly policies toward Iran and received bribes from two London-based businessmen who worked with theIranian regime, specifically trying to buy a VIP airplane for Iranian leaders. (see documents)
Moreover, Ney was personally involved in creating and supporting pro-Tehran lobbying organizations in the US. He was Trita Parsi's main lobbying partner between 1997 and 2006. Together they relentlessly advanced an agenda/strategy in Congress to remove sanctions and pressure against Iran.
Ney was also working with American Iranian Council (AIC), a US based pro-Tehran advocacy organization that preceded NIAC. In 2001, Trita Parsi was AIC's director.

Bob Ney worked closely with American Iranian Council
Trita Parsi's relation with Bob Ney
Parsi's lobbying partnership with Bob Ney started in 1997 when Parsi founded his first lobbyingorganization called Iranians for International Cooperation (IIC). In a document prepared by Parsi, he explained the beginning of their lobby partnership, writing:
"The first achievement of IIC can be traced back to the summer of 1997 when Trita Parsi worked as a political consultant for Congressman Robert Ney of Ohio. Congressman Ney was at the time a proponent of the US's isolation policy of Iran and had contacts with the Mujahedine Khalq terrorist organization. Mr. Parsi was hired to consult the Ohio Congressman on his policy vis-à-vis Iran, and persuade him to reconsider his position in favor of a pro-dialogue, pro-engagement policy."
In one of his CVs, Parsi wrote that he "advised the Congressman on the Middle East, with a focus on US-Iran relations. He authored speeches, press releases, statements and legislation."
In his job application to the Washington based anti-sanction organization AIC, Parsi wrote:
Most of my work experience has pertained to politics and diplomacy, and US-Iran relations in particular. I have worked in the United States Congress as a political advisor to Congressman Robert Ney of Ohio, formulating and marketing his position vis-à-vis Iran. As I am sure you are aware, Congressmen Ney originally positioned himself in favor of the political isolation of Iran and had extensive contacts with the Mojahedin. My job at his office was to point out to him the benefits of engagement with Iran and persuade him to change his position to favor such a policy. This task was successfully accomplished and Congressman Ney are today one of Capitol Hill's most outspoken advocates of dialogue with Iran.
Ney and Parsi's collaboration to influence US policy with Iran reached unprecedented levels after the creation of NIAC in 2002.
In 2007, Parsi wrote a letter on behalf of Bob Ney to theUS District Court Judge and explained "the service and the good deeds that Ney has committed throughout these past 26 years."
Bob Ney was bribed by Iran related businessmen
In 2002, the Iranian regime wanted to buy a VIP aircraft for their officials. Restricted by US sanctions, the Iranian Defense Ministry founded a company in Cyprus called Safat Air. Then, the Iranian company signed the purchase contract with London-basedFN Aviation, led by Nigel Winfield and Fouad Al-Zayat.
In order to resolve the US sanctions issue, they needed some help in the US. They hired two Washington lobbyists, Roy Coffee and David Distefano. Coffee "was Deputy Campaign Manager for George W. Bush in his successful 1994 race for Governor. He then served as the Director of State-Federal Relations in the Governor's office for four years." Distefano was Bob Ney's former chief of staff. (See documents)
The two lobbyists went to Congressman Ney for help. Coffee, the Washington lobbyist has elaborated on this affair:
FN Aviation through Nigel Winfield approached Dave (DiStefano) and I [sic] in January of 2003. Nigel told us his partner, Fouad al-Zayat, was a former Middle East representative for Boeing for more than 20 years. They were interested in obtaining a humanitarian exemption to the Iran-Libyan Sanctions Act for spare parts for civilian commercial aircraft and possibly the sale of commercial aircraft…We then approached Chairman Bob Ney of Ohio, Dave's former boss.
In Ney's plea agreement it is mentioned that:
Ney also admitted that he accepted tens of thousands of dollars worth of gambling chips from a foreign businessman who was hoping to sell U.S.-made airplanes and airplane parts in a foreign country. Ney agreed to help the businessman with obtaining an exemption to the U.S. laws prohibiting the sale of these goods to the foreign country and with obtaining a visa to travel to the United States.
NAIA, the lobbying arm for NIAC
A few months before two London businessmen hired the trio Bob Ney, Roy Coffee and Distefano to help remove the sanction on a VIP airplane for the Iranian leaders, this trio worked with Trita Parsi to launch NIAC and its anti sanction lobby in Washington. This intriguing story was partly revealed in 2006 during the Jack Abramoff scandal but NIAC's court internal documents released during the defamation lawsuit clarified this affair. (See Documents)
NIAC was officially launched in 2002 as a 501c3 nonprofit organization. During the consultation in 2001 to create NIAC, Trita Parsi admitted the legal difficulties he faced. A pure lobbying organization would not be attractive to the Iranian-American community and could not raise tax-exempt donations. On the other hand, a 501C is limited in the amount of Lobbying it can legally perform.
In 2002, Parsi, Bob Ney and two Washington lobbyists Roy Cofee and David DiStefano worked together over nine months to create a parallel organization to NIAC that would carry out the lobbying activities while NIAC Continued to work within the Iranian community to provide the necessary recruits for a lobbying campaign of this scale.
This story was revealed by Roy Coffee in 2006 in a letter that he sent to the Dallas Morning News in February 2006, to explain the VIP airplane affair. He wrote:
Back in the spring or summer of 2002, a good friend of mine from law school, Darius Baghai, had just returned from visiting relatives in Iran for the first time since his family left before the revolution. He spoke with me about how the economy of Iran was humming and that the US was missing out because we were the only country imposing sanctions on Iran since 1979.…From this, I took Darius into visit with Mr. Ney. What was to be a 15 minute meeting became a 1 1/2 hour meeting as they spoke passionately about their hopes for the Iranian people. They also spoke in Farsi a great deal - I'm sure talking smack about me. From that meeting, Darius, Dave and I began to work with Trita Parsi, another Iranian-American to try to form a political action committee of Iranian-Americans to pursue a strategy of normalization of relations between the two countries.…The 4 of us worked very hard for about 9 months to form this committee, but we found that most Iranians do not want to get involved in politics because of their experiences in Iran during and after the revolution.
During a defamation lawsuit that NIAC lost in 2012, several important documents were released that clarify this affair and reveal the nature and goals of pro-Tehran activities in Washington.
The first document is Parsi's memo to Roy Coffee, entitled "Towards the creation of an Iranian-American lobby", in which he detailed his plan to create this parallel organization. This organization was to be called "the National Association of Iranian Americans" (NAIA).
It is noteworthy that a good part of this document is similar to the paper Parsi co-authored in 1999 with Siamak Namazi, managing director of Tehran-based Atieh Bahar, a business firm with multiple ties to the Iranian regime. In this letter, Parsi explained the goal and strategy of the lobbying that the proposed organization would carry out in partnership with NIAC.
In his memo Parsi wrote:
Although the mission of the proposed lobby should be to improve relations between the US and Iran and open up opportunities for trade, the initial targets should be less controversial issues such as visas and racial profiling/discrimination...
Despite its predominantly business oriented constituency, it is essential that the lobby creates a "human face" for its aims and goals. AIPAC successfully painted the opponents of the Iran Libya Sanctions Act as "greedy businessmen who had no scruples when it came to doing business with terrorist regimes." The oil companies failed to characterize their campaign with "human concern for the well-being of innocent Iranians stuck with a dictatorial regime" or "support for the poor mid-Western family father who lost his job due the sanctions." The human element is essential both when it comes to attracting support among Iranian-Americans and when it comes to winning the debate and the votes on the Hill.
Paris explained the proposed funding from this lobby and wrote:
Iranian-American organizations have in the past targeted the oil companies for financial support. This strategy has been a two-egged sword. On the one hand, the oil companies have been relatively dedicated to the cause and have been generous supporters of groups such as AIC. On the other hand, oil companies have a bad reputation among Iranian-Americans and are easily depicted as greedy and insensitive to human rights concerns in the media.
It would be a wise strategy of the proposed lobby to seek limited support from US oil companies. Oil companies should not be the initial sponsors of the lobby and their share of the lobby's budget should perhaps not exceed 10 per cent. Diversification is the key.
The lobby should target business with positive images that have a strategic interest in trade with Iran. These companies include Motorola, who would benefit greatly from the 70 million strong Iranian telecom market, IT companies who could benefit from Iran's cheap yet highly skilled labor (just as they do in India), construction and irrigation companies, soft drink companies (displeasure with US policies in the Middle East has allowed Iranian soft drink companies to grab market shares from Coca Cola and Pepsi in many Persian Gulf countries) and fast food chains.
Later, Coffee re-drafted Parsi's proposal in a paper called "Sell document" that clarifies the business nature of NIAC and Parsi's activities in Washington.
In 2002, Coffee and Diestafano held lobby class for NIAC members and Bob Ney helped NIAC in a fundraising in Washington
Iran's 2003 Grand Bargain Offer, Bob Ney and Trita Parsi's role
The most intriguing affair that involved Bob Ney and Trita Parsi occurred in 2003 when they helped the Iranian regime to send its famous grand bargain offer to the White House. In a separate report, this affair and its secret dealings are discussed in detail. See the full report here.
This report reflects the opinion of Iranian American Forum editors. This opinion is made after thorough examination of public documents. We welcome open discussion and encourage the readers to send us their comments, corrections and objections.