A December 2012 report prepared by the Pentagon names two individuals as Iranian Intelligence Agents. NIAC worked with them and enlisted their help in organizing a Congressional briefing. NIAC also worked with the editor of Iran Interlink, identified to be run by Iranian intelligence service
Background on NIAC's internal documents released during a defamation lawsuit
The National Iranian American Council (NIAC) is a Washington-based grassroots lobbying organization that was founded by its president Trita Parsi in 2002. NIAC lobbies for a friendlier policy with Iran and opposes economic sanctions. NIAC maintains an active presence in Washington D.C., particularly working to influence members of Congress and the White House on their opinions about Iran. The government press in Tehran calls NIAC the "Iran lobby in US."
Between 2007 and 2008, the NIAC and its president Trita Parsi were faced with growing criticism from the Iranian-American community that questioned the NIAC's ties to the Iranian regime and its lobby in favor of Iranian rulers.
NIAC launched a campaign of intimidation against journalists, activists and media outlets. Their hope was to silence all opposition but this campaign failed. Finally, in April 2008 NIAC decided to file a defamation lawsuit against one of its main critics, Hassan Dai, to break him under the financial burdens of the lawsuit and as a result, to send a message to other critics.
On September 13, 2012 U.S. District Judge John Bates dismissed the lawsuit and in a second ruling, sanctioned NIAC and Trita Parsi for discovery abuses including false declaration to the court and ordered them to pay $184000 for defendant's legal expenses. (Read More: NIAC lost defamation lawsuit and was punished for legal abuses)
The lawsuit obliged NIAC to release part of its internal documents that revealed the organization's ties to Tehran and some of its illicit activities.
Some of these documents show that NIAC defrauded IRS, lied to the court, defrauded NED Congressional funds,coordinated its lobby with Iranian ambassador to the UN and collaborated with two individuals named by US Congressional report as the agents of the Iranian intelligence ministry.
Court documents also show that in 2002-2003, while president of NIAC, Parsi profited from his presence inside Congress and his close relationship with Congressman Bob Ney to prepare reports about the latest developments regarding Iran and sent these reports to Atieh Company in Tehran. Atieh paid Trita Parsi for his work. Parsi continued to send reports about his lobby activities to Atieh director in Tehran. (Read more: "NIAC's partners in Iran: Iran's economic mafia and regime associates")
*****************************************
In December 2012, the Library of Congress released a report prepared by the Pentagon on the Iranian Intelligence Ministry, its techniques in recruiting agents in Europe and the US, and its infiltration of US academic institutions and Iranian-American organizations. The 64-page unclassified report published by Washington press and Farsi media names two individuals as the agents of the Iranian Secret Services. Both persons have collaborated with the National Iranian American Council (NIAC) led by Trita Parsi, a Washington-based advocacy group viewed by many Iranians to be the Mullahs' lobby in US. The government press in Tehran calls NIAC the "Iran lobby in the US."
The Pentagon report names London-based Massoud Khodabandeh and his wife Anne Singleton as the recruits of Iranian intelligence services (pg 26-27). NIAC's internal documents obtained during a defamation lawsuit which NIAC lost, show close collaboration between NIAC and these two individuals. In 2008, NIAC organized a Congressional briefing in Washington for these Iranian agents (see NIAC chief lobbyist Emily Blout's email released during the lawsuit). A copy of a check by NIAC to Ann Singleton conforms that NIAC paid their travel fare, but US Homeland Security intervened and stopped them from boarding the London flight to Washington because of their link to the Iranian regime.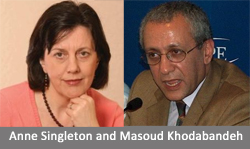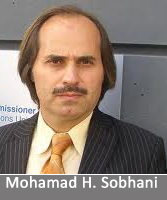 Furthermore, the Congressional report identifies several websites such as Iran Interlink as being operated by the Iranian intelligence agency (page 41). NIAC also collaborated with Mohammad Hassan Sobhani, editor of Iran Interlink to attack NIAC's critics.
During 2007-2008, Hassan Daioleslam, a human rights activists, published several investigative reports about NIAC's lobby on behalf of the Iranian regime and in response to these reports, NIAC and the Iranian agents launched a smear campaign against him.
To begin with, Sobhani wrote an article in which he called Daioleslam "a terrorist." Then, Parsi and NIAC used this accusation in a large-scale campaign against Daioleslam to discredit him and eventually use it in the aforementioned defamation lawsuit. Parsi further instructed numerous friendly websites to use Sobhani's article to discredit Daioleslam.
This report reflects the opinion of Iranian American Forum editors. This opinion is made after thorough examination of public documents. We welcome open discussion and encourage the readers to send us their comments, corrections and objections.