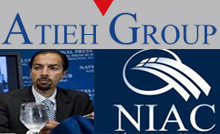 Since 1999 when Parsi and Namazi from "Atieh group" proposed creation of Iranian-American lobby in US, NIAC and Atieh have been working together to lobby in Washington against sanctions. Atieh is a Tehran based business conglomerate that has multiple ties to the regime and helps foreign corporations do business in Iran
Introduction:
The National Iranian American Council (NIAC) is a Washington-based grassroots lobbying organization that was founded by its president Trita Parsi in 2002. NIAC lobbies for a friendlier policy with Iran and opposes economic sanctions. NIAC maintains an active presence in Washington D.C., particularly working to influence members of Congress and the White House on their opinions about Iran. The government press in Tehran calls NIAC the "Iran lobby in US."
Between 2007 and 2008, the NIAC and its president Trita Parsi were faced with growing criticism from the Iranian-American community that questioned the NIAC's ties to the Iranian regime and its lobby in favor of Iranian rulers.
NIAC launched a campaign of intimidation against journalists, activists and media outlets. Their hope was to silence all opposition but this campaign failed. Finally, in April 2008 NIAC decided to file a defamation lawsuit against one of its main critics, Hassan Dai, to break him under the financial burdens of the lawsuit and as a result, to send a message to other critics.
On September 13, 2012 U.S. District Judge John Bates dismissed the lawsuit and in a second ruling, sanctioned NIAC and Trita Parsi for discovery abuses including false declaration to the court and ordered them to pay $184000 for defendant's legal expenses. (Read More: NIAC lost defamation lawsuit and was punished for legal abuses)
The lawsuit obliged NIAC to release part of its internal documents that revealed the organization's ties to Tehran and some of its illicit activities.
Some of these documents show that NIAC defrauded IRS, lied to the court, defrauded NED Congressional funds,coordinated its lobby with Iranian ambassador to the UN and collaborated with two individuals named by US Congressional report as the agents of the Iranian intelligence ministry.
Court documents also show that in 2002-2003, while president of NIAC, Parsi profited from his presence inside Congress and his close relationship with Congressman Bob Ney to prepare reports about the latest developments regarding Iran and sent these reports to Atieh Company in Tehran. Atieh paid Trita Parsi for his work. Parsi continued to send reports about his lobby activities to Atieh director in Tehran. (Read more: "NIAC's partners in Iran: Iran's economic mafia and regime associates")
Summary
In 1999, Trita Parsi and Siamak Namazi, proposed creation of an Iranian-American lobby in US. Namazi was director of Tehran-based Atieh Bahar, which is part of Atieh Group a company that has multiple ties to the regime and helps foreign corporations do business in Iran.
Since the creation of NIAC in 2002, Atieh Group has remained NIAC's main partner in Iran. In this report, we examine the following topics:
Creation of an Iranian-American lobby in US was proposed in 1999 in a joint paper by Parsi and Siamak Namazi, director of Atieh.
Atieh Group, part of Iran's economic mafia and tied to the regime
In 2001 Baquer Namzi helped Trita Parsi to create NIAC.
In 2002-2003 Parsi sent reports to Atieh and was paid for his service.
After 2006, Parsi coordinated NIAC's lobby with Siamak Namazi from Atieh
Baquer Namazi has supported NIAC's campaign to "use" the anti-war movement and create a pressure group to remove pressure against Iran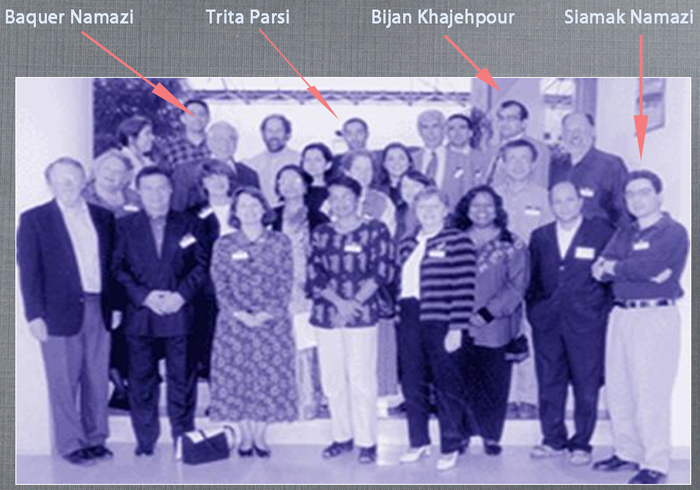 1999, Cypress conference, Atieh directors and trita Parsi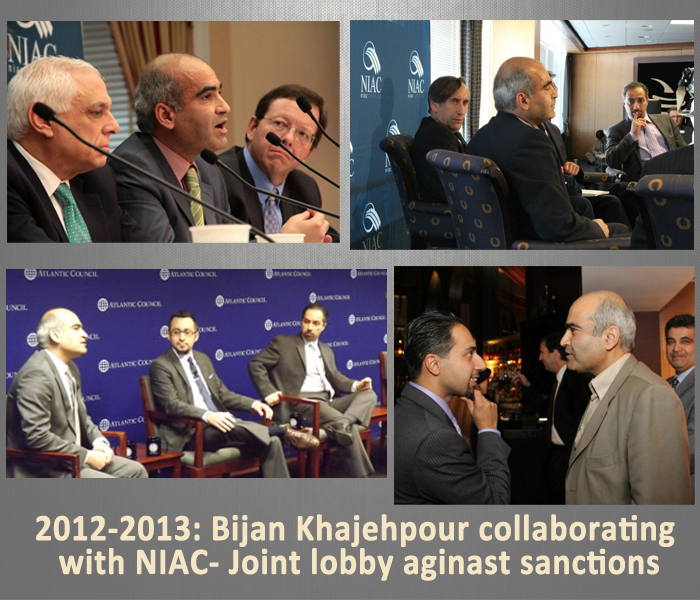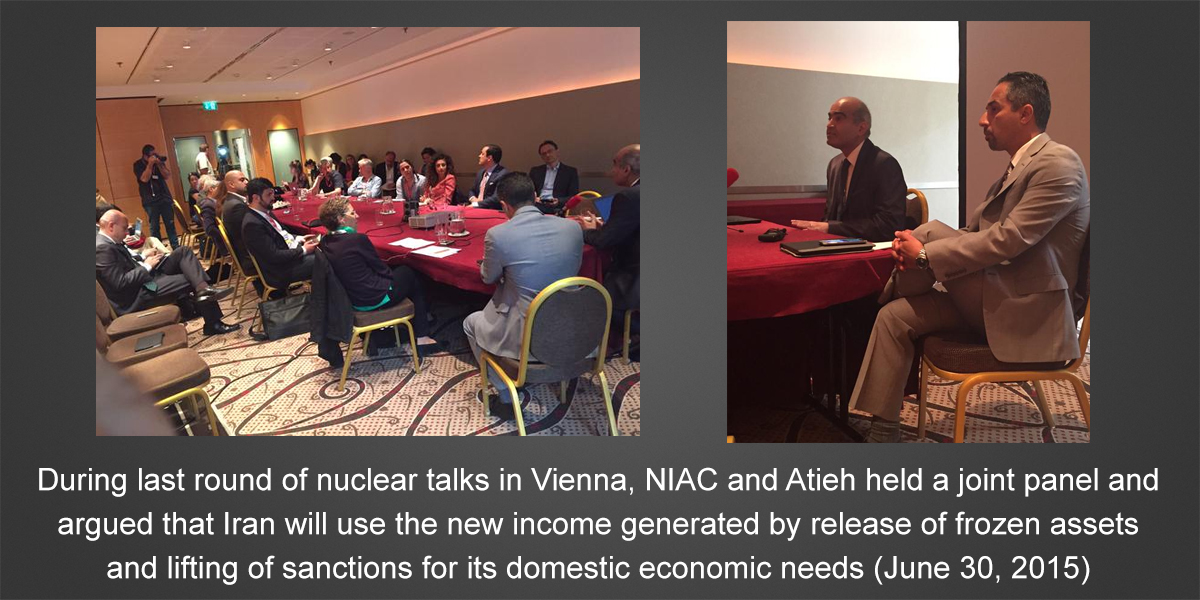 Story
NIAC's origin and creation
1999, Cypress conference and roadmap for creation of NIAC
In 1999, while the anti-sanction lobbying campaign by US corporations continued in Washington, Hossein Alikhani, an Iranian oil businessman living in Cypress organized a conference to discuss how to improve US-Iran relations and remove sanctions. Alikhani had been previously arrested by the FBI in 1991 and jailed in the US for violating the sanctions against Libya.In 2005, in a show of support to Alikhani, a court in Tehran demanded that the US embassy compound in Tehran be sold and the fundsbegiven to him.(See documents)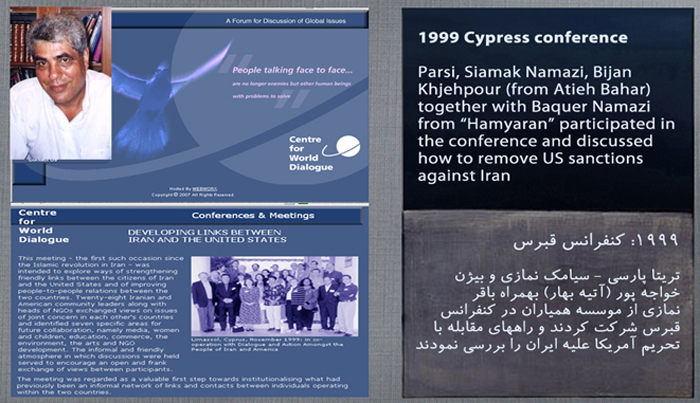 Among the participants in the 1999 conference were Richard Sawaya, chief lobbyist at Oil giant Arco, Farrokh Mostofi representing the Shell oil company in Iran and Bijan Khajehpour, chairman and founder of Tehran-based Atieh Group.

Siamak Namazi (Atieh's partner and managing director of Atieh Bahar consulting) was present at the Cypress conference and together with Trita Parsi, he presented a roadmap and argued that an Iranian-American lobby should be created to influence US policy with Iran and eventually remove sanctions. In that report, they explained how the Israeli lobby, AIPAC, operates in Washington and argued that: "An Iranian-American lobby (which is different from a lobby group purely pursuing the interests of the Islamic Republic of Iran) is needed in order to create a balance between the competing Middle Eastern lobbies. Without it, Iran-bashing may become popular in Congress again."
Parsi and Namazi outlined three recommendations:
1. Seminars in lobbying for Iranian-American youth and intern opportunities in Washington DC.
2. Increased awareness amongst Iranian-Americans and Americans about the effects of sanctions, both at home and in Iran.
3. The taboo of working for a new approach on Iran must be further legitimized.
Atieh Group, part of Iran's economic Mafia
What is the Atieh Group and why were its owners and directors interested in creating a lobbying organization in the US to remove sanctions against Iran?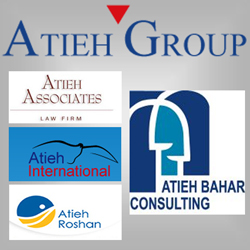 Atieh Group is a business conglomerate founded in Tehran in 1993 with diverse activities. Its consulting firm is Atieh Bahar, it HR firm is Atieh Roshan and the legal arm is Atieh Associates, altogether they help foreign companies do business in Iran, acts as intermediary between the company and the government, maintains close ties with the regime and has multiple joint ventures with the government. Atieh is part of the inner circle of the Iranian regime's economic mafia.
Some of the Atieh's old website screen shots are compiled here and show close ties between this company and the Iranian regime. For example, Bijan Khajehpour the founder and chairman of Atieh is also the director of another comapny called "Azar Energy", an oil and gas joint venture with the Iranian government.
Atieh Dadehpardaz provides web and IT services to parliament, government ministries, military and security institutions This is just one example of close relationship to the Iranian regime enjoyed by the Atieh and the high level of trust the government places in the company.
A simple review of "project samples" posted on Atieh website shows the close relationship between Atieh and the regime. For example, Atieh's legal department helped theIranian government obtain $1.4 billion to finance the purchase of 12 oil carriers.
Atieh's CFO, Albrecht Frieschenschlager and his other consulting company helped the government to secure finance for this purchase.
In this document we see some examples of international oil conferences that Atieh Bahar co-organized with Iranian regime in which government ministers participated.
Atieh has an international branch based in Vienna, Austris led by Bijan Khajehpour and his wife Pari Namazi.
Siamak Namazi and Bijan Khajehpour (chairman of Atieh) collaborated with other "Iranian-American" organizations that lobbied against US sanctions, notably with American Iranian Council (AIC), an anti-sanction advocacy group in Washington.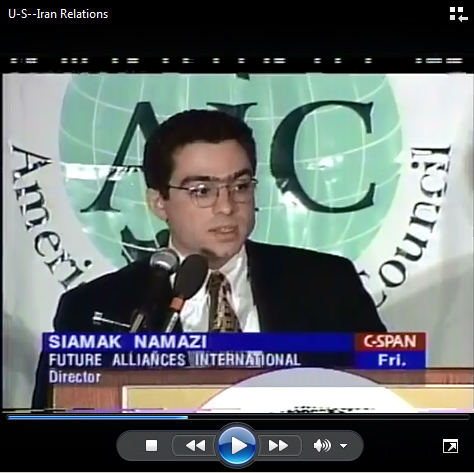 March 2000, Siamak Namazi and former Iranian ambassador speak at AIC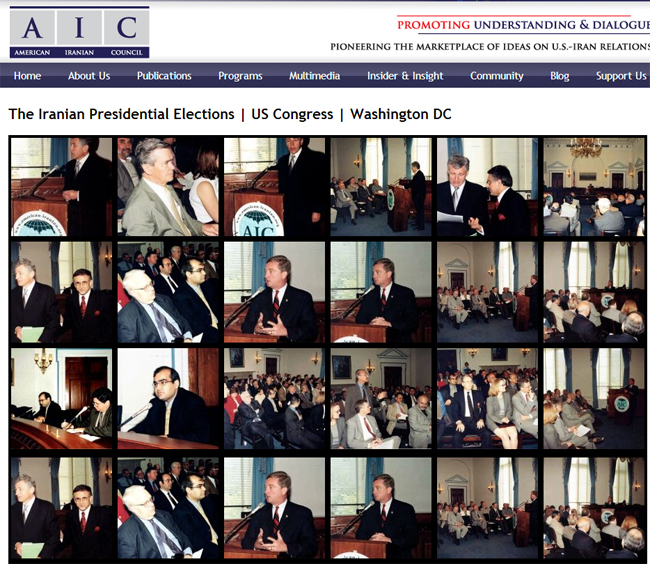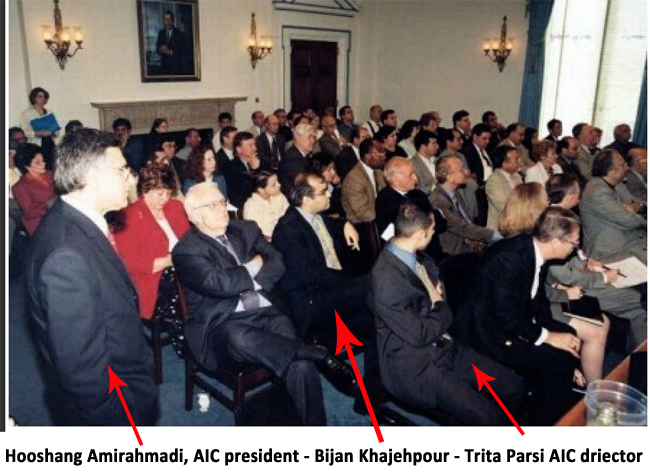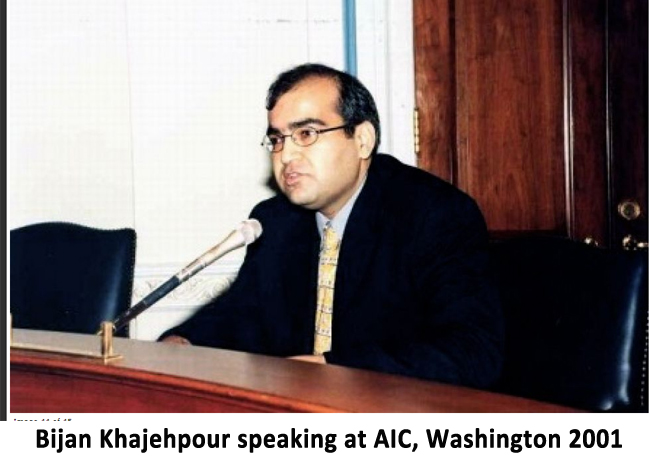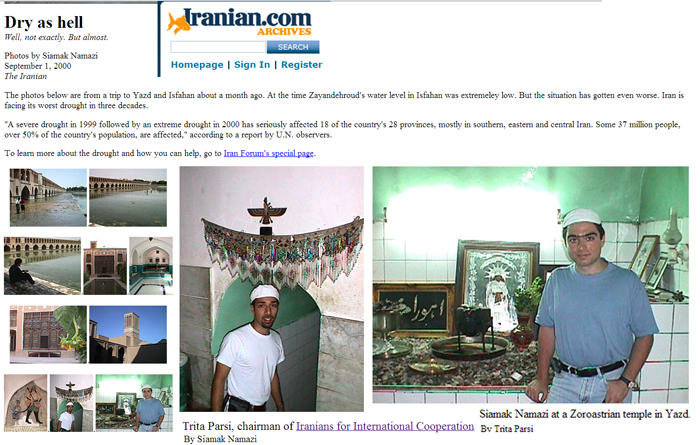 In 2000, a year after the Cypress conference, Parsi and Siamak Namazi travelled together in Iran and elaborated on their project
2001: Parsi was hired as the development director of AIC and moved to US
The American Iranian Council (AIC) is a pro-engagement advocacy organization based in Washington. AIC is supported by large US corporations notably oil giants that seek business with Iran.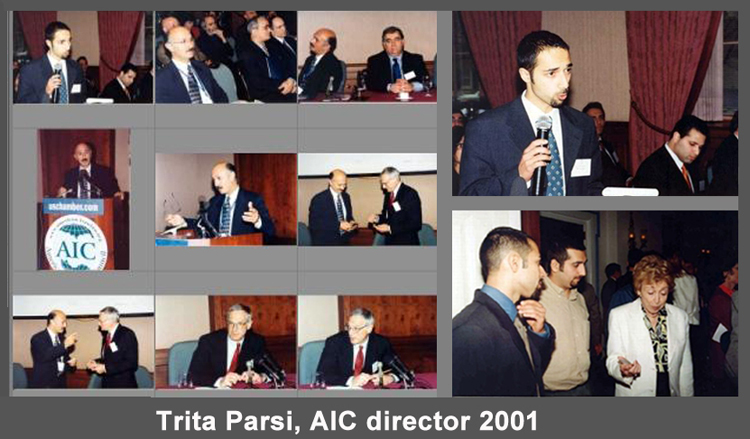 In 2001, Parsi was hired by AIC as thedevelopment director and moved to Washington. (See Parsi's CV) He worked less than a year for AIC but this was a good professional experience for him to know the anti-sanction lobby groups build his network of donors and sponsors and prepare the creation of NIAC. (See also, AIC president Amirahmadi's letter and Parsi's report to AIC board members)
Here is part of Amirahmadi's letter to AIC board announcing Trita Parsi is hired as AIC director:
It is my great pleasure to welcome Trita Parsi to our team at AIC. You may recall earlier conversations about his possible employment with AIC, and I am proud to inform you that the wait is over. Trita has received his work permit and will fly in from Stockholm, Sweden on Monday, February 5.
Trita has also been very active in the Iranian-American community, mostly through the organization Iranians for International Cooperation (IIC), which he founded in 1997. IIC's main mission has been to advocate improved US-Iran relations and mobilize the Iranian-American community into an influential political force.
With the title Director of Development, Trita will concentrate on fund raising and membership development, as well as being responsible for congressional liaisons and our congressional roundtables. As with our other staffers, Trita will live within walking distance of our office.
June 2001: Parsi began consultations for the creation of NIAC. He was instructed by Baquer Namzi from Tehran.
A series of emails that were obtained during the defamation lawsuit, show that three month before the launch of NIAC, Trita Parsi and some of his lobby partners discussed the creation of a lobbying organization to remove sanctions against Iran. (See documents)
They discussed the legal structure of the organization that could permit lobbying activities. They also discussed if a new lobbying organization should first target the lifting of sanctions on Iranian NGOs and later ask for the removal of all sanctions, or if it would be better for the organization to begin withopposing sanctions altogether. Parsi favored this approach and argued that his lobby's partners in Congress were not interested in NGO issues. Here is part of their discussion:
The issue of whether to lobby for an exemption for charitable NGOs or to lobby for the lifting of sanctions altogether was touched upon several times. Prior to the conference call, Mr. Parsi had submitted an email in which it was pointed out that the former strategy may prolong the sanctions policy in two different ways (June 17, 2001):
Proponents of sanctions may label the exemption for NGOs a great concession and argue that Iran deserves no further concessions until it reciprocates this "goodwill" gesture.
The exemption for NGOs may make the sanctions look smarter and give the impression that the sanctions, through the NGO exemption, only target the Iranian regime and not the people.
Mr. Parsi pointed out that focusing only on an NGO exemption might alienate allies within and outside of Capitol Hill, and that "shooting big" leaves us with the option of "shooting small" at a later stage if necessary.

In one of the emails, (image #4), Parsi confirmed that Baquer Namzi from Tehran was instructing them in their efforts.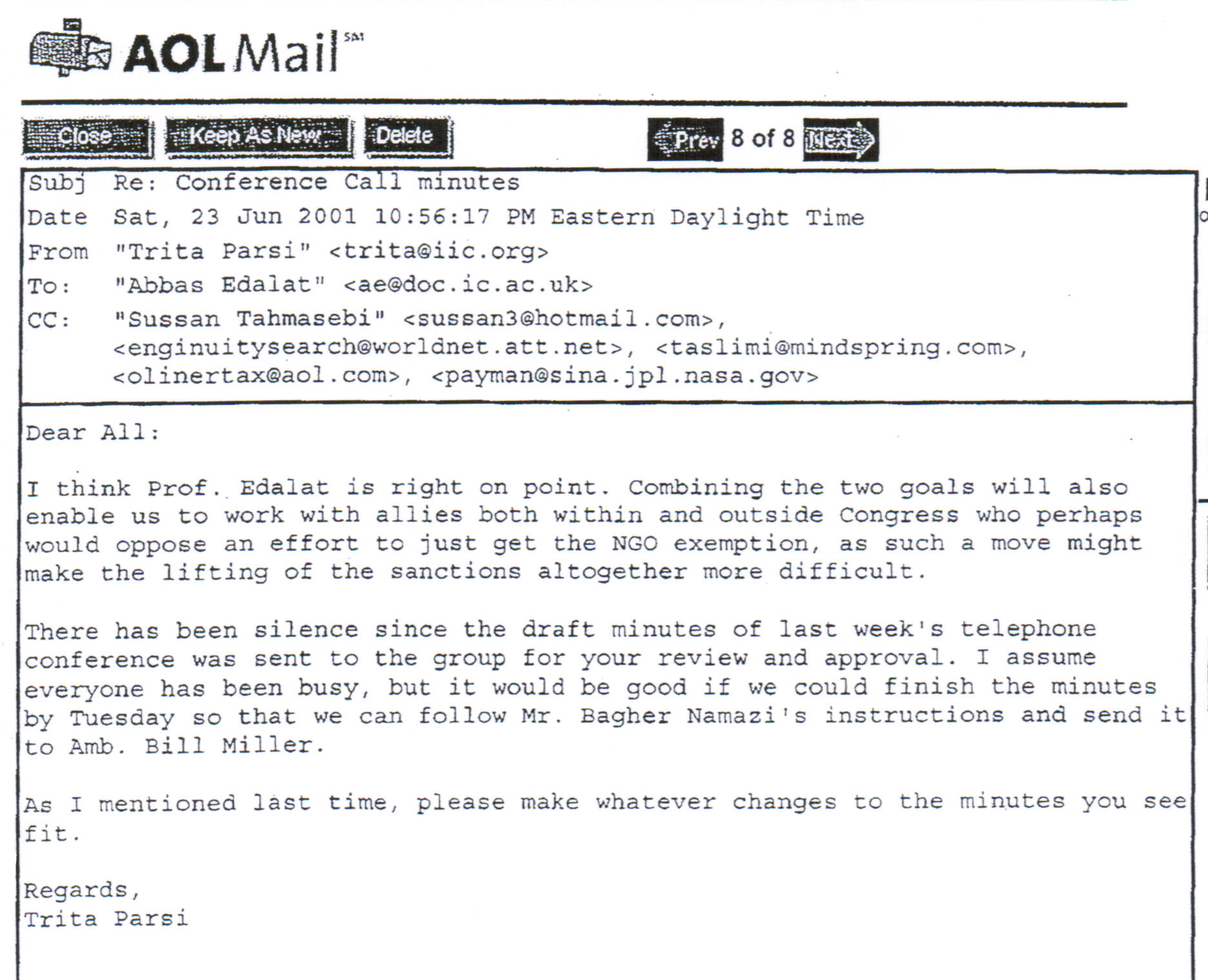 Baquer Namazi and Hamyaran
Baquer Namazi was the co-director Hamyaran, a semi-governmental organization (aka the "Iran NGO initiative") between 1998 and 2008. The other co-director of Hamyaran was a deputy minister for eighteen years until 2008.
Hamyaran was created by the government to monitor the activities of Iranian NGOs and to coordinate their relations with foreign organizations. Hamyaran was also assigned by the Iranian foreign ministry to coordinate relationships with Iranian expatriates. (see document)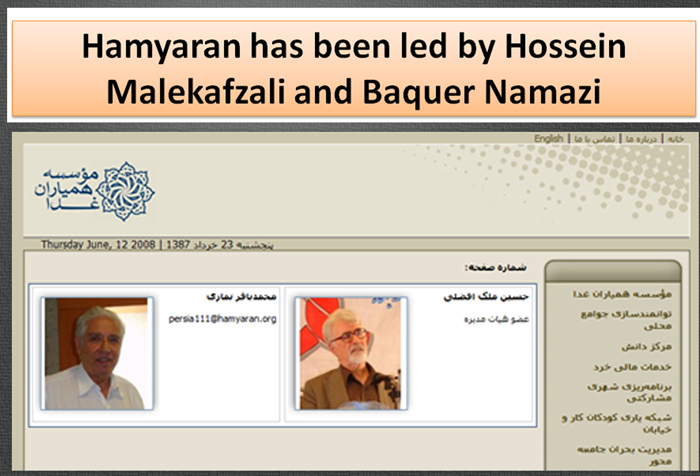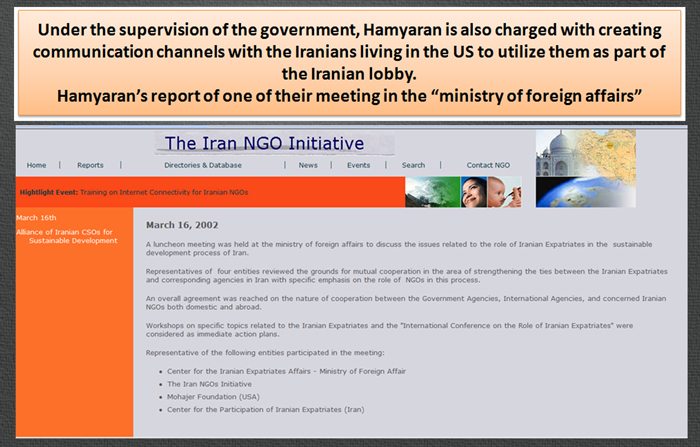 In October 2001, Parsi and four friends held the first NIAC board meeting. In early 2002, NIAC was officially registered as a 501c organization.
2002-2003: Trita Parsi, president of NIAC, sent reports to Atieh Bahar in Tehran and was paid for his work
In 2002-2003, while president of NIAC, Parsi profited from his presence inside Congress and his close relationship with Congressman Bob Ney to prepare reports about the latest developments regarding Iran and sent these reports to Atieh Bahar company in Tehran. Atieh published these reports for their clients, mostly foreign diplomats stationed in Tehran. Atieh paid Trita Parsi for his work. Here are two (1-2) examples of Parsi's reporst and here are the documents related to his remunerations.
Trita Parsi and Atieh Group's officers from Tehran coordinated anti-sanction lobby in Washington
A series of email exchange between Parsi and Siamak Namazi were obtained during the lawsuit and show the close coordination between them to advance NIAC's anti-sanction lobby in Washington. (See documents)
These emails show that Parsi, who has had access to US government and Congressional offices, was collaborating with people inside Iran who worked with Iranian government.
NIAC started its large-scale lobbying at the end of 2005 and from the beginning, Namazi was helping Trita Parsi to advance his lobby, connect to influential people and get support for his lobbying activities.
Together they planned to meet with the US Deputy Secretary of State, and in their email exchange they discussed their "game plan" to influence the US government.
Namazi took Parsi to meet with Julia Nanay of the Petroleum Finance Company, the Italian Ambassador and other influential people in Washington.
Parsi regularly reported his lobby to Namazi in Tehran, they exchanged information, and Namzi briefed him on Iran's political situation.
Namazi prepared talking points and policy briefs for Parsi to be used by him in his meetings in Washington.
NIAC and Atieh today
NIAC's collaboration with Atieh Group continues. Bijan Khakehpour is mostly in Vienna, Austria where he leads the newly launched office of Atieh in Europe. He regularly comes to the US to participate in NIAC's Congressional and policy meetings and he has recently co-authored with Trita Parsi a new anti-sanction report that was presented during a conference in Washington.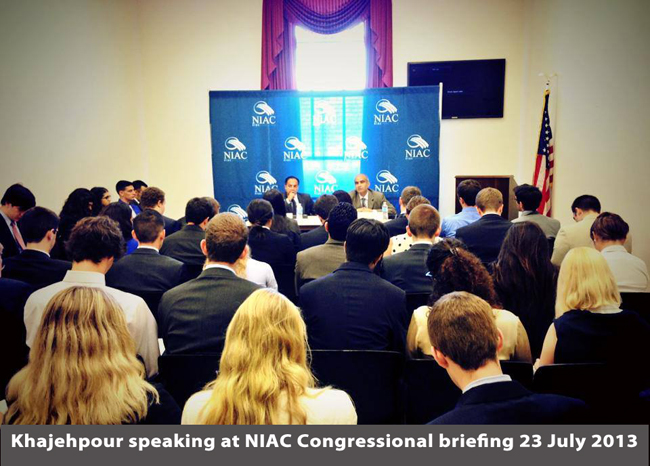 Khajehpour and his wife Pari Namazi are listed as key speakers in NIAC's leadership conference in October 2013.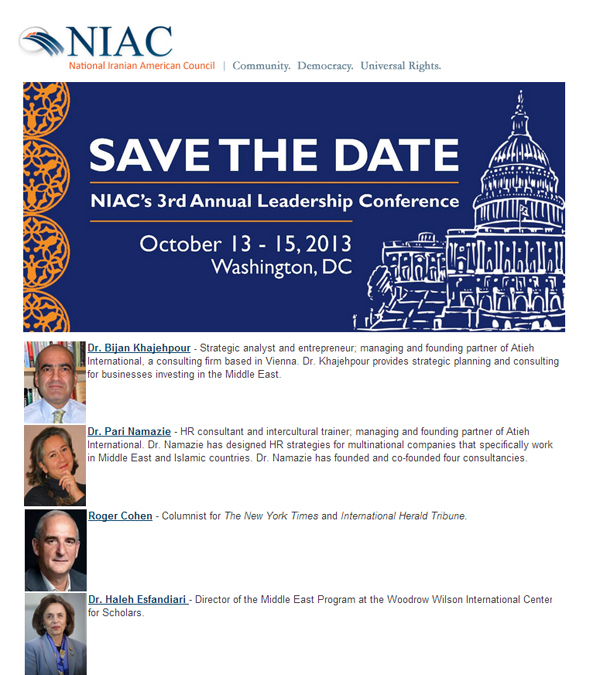 Baquer Namazi from Tehran helped NIAC to high jack the anti-war movement
A 2007 email obtained during the aforementioned lawsuit clearly shows that Baquer Namzi, director of Hamyaran who helped Parsi in 2001 to create NIAC, was also supporting NIAC in 2007-2008 to recruit among the anti-war activists and create a "pressure group" in Washington. In his email, Namzi wrote to his American contacts: (Read the full story here)
"Two very good Iranian groups are working hard (NIAC) National Iranian American Council (NIAC) and the London based (CASMII) Campaign Against Sanctions and Military Intervention in Iran (CASMII). The latter had a hand in the Washington ad you shared with me... They are both also working closely together. This is really great and we know the heads of both, close friends. Trita Parsa NIAC and Abbas Edalat CASMI. Their team work and cooperation should be emulated by all of us... Once we get our act together we should try and link up to NIAC. Parker and I know Dr. Trita Parsi... Our American friends, especially yourself and Parker and Geri can help link us up with US based peace movements. Just imagine if we can work out a grand coalition for peace or the Network of Peace Networks, what a great ethical and humanitarian force, what a formidable pressure group."
This report reflects the opinion of Iranian American Forum editors. This opinion is made after thorough examination of public documents. We welcome open discussion and encourage the readers to send us their comments, corrections and objections.