NIAC & Trita Parsi Factbook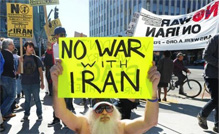 Public and court documents show how the Iranian regime was able to infiltrate, manipulate and high jack some of American anti-war groups and use them in a vast lobby campaign to influence public opinion and US policy with Iran
Background
The Iranian regime has forged alliance with various political, social, religious and cultural organizations in the US to further its political agenda. However, the practical alliance between the theocratic regime of Iran and part of American left and anti war groups could seem the most inconvenient and difficult to understand.
Two episodes best define the troubling nature of the relationship between the Iranian regime and part of the American left and peace movement. The first episode occurred in September 2008, when the Iranian president Mahmoud Ahmadinejad came to New York to attend the UN general assembly. The Iranian mission at the UN invited the peace and religious groups to meet with him. One hundred-fifty representatives of these groups participated in a reception with Ahmadinejad, some of them praising the Iranian regime and offering help to combat US pressure and sanctions against Iran. At the end of ceremony, Ahmadinajad who received a gift joyfully expressed his desire to be a member of American peace movement.

The next day, some sixty of these activists met again to elaborate action plans to combat US pressure and sanctions against Iran.
The second episode happened a few months later in June 2009 after the rigged presidential election when millions of Iranians poured into the streets to demand democracy and justice. The regime violently suppressed the uprising, killed or tortured and jailed thousands of demonstrators.
However, part of American left and anti-war activists had a negative view of the uprising and continued to support the Iranian regime. Reese Elrich, a veteran anti-war journalist, author and an ardent opponent of war with Iran who was at the time in Tehran and witnessed the uprising wrote an article and explained the mood among some segments of American Left writing:
"When I returned from covering the Iranian elections recently, I was surprised to find my email box filled with progressive authors, academics and bloggers bending themselves into knots about the current crisis inIran. They cite the long history ofU.S. interference inIran and conclude that the current unrest there must be sponsored or manipulated by the Empire. That comes as quite a shock to those risking their lives daily on the streets of major Iranian cities fighting for political, social and economic justice."
While these two shocking episodes shed light on the troubling nature of relations between the Iranian regime and part of American "left," they do not reveal how Iran was able to bridge to the peace movement, shape the discourse about Iran and how Iran is successfully using this movement in a vast lobby campaign to influence US policy and further Iranian regime's strategic goals.
A cursory review of anti-war websites, journals, TV and radio programs demonstrates the Iranian regime's success in its campaign to manipulate this movement. The usual talking points in these so-called progressive networks are in line with the wishes and interests of the Iranian regime, and mostly resemble the English version of governmental press in Tehran. Accordingly, the Iranian nuclear program is presented as peaceful, its regional ambitions and support to terrorist proxies are depicted as legitimate and in line with Iranian national interests and the US allegations about Iranian nuclear weapon program or Iran's alleged terrorism are framed as pretexts used by the American warmongers to wage a military attack against Iran.
Iranian regime's web of influence in Washington
Following the US invasion of Iraq in 2003, the anti-war movement and opposition to George Bush's policy in the Middle East gained support in the US. In 2005, after Ahmadinejad became president, Iran resumed its nuclear activities and the hostilities between Iran and the West increased. As a result, the US anti-war movement feared a new war in the region and voiced its concern and criticized US animosity toward Iran.
As the anti-war movement's opposition to US policy toward Iran became more vocal, the Iranian regime and its American proxies and allies decided to use this popular movement to further their political agenda.
In 2005 the Iranian regime launched an ambitious plan to connect with American anti-war groups, recruit amongst them and use their social network in a grassroots lobby to influence public opinion and prevent tougher policies against Iran. Obviously, this campaign has been very "useful" for the regime because in an official document issue by Iranian foreign ministry in April 2013, the government projects to double its support to Western anti-war groups.
The Iranian regime's plan to use the American anti-war movement was based on two successful experiences; the first occurred in the early years of Islamic Republic when some Iranian "left-leaning" organizations supported Khomeini's so-called anti-Imperialist foreign policy and his repressive domestic policies as well. The second experience was the undeclared and unofficial alliance between the American trade lobby and Iranian regime to lift economic sanctions and change US policy toward Iran. This second experience provided Iran with opportunities to be active in Washington, interact with US political circles and support friendly organizations.
In 1997 the so-called reformist president, Mohammad Khatami, launched a charm offensive towards the West. American business groups seized this opportunity by initiating a large-scale lobbying campaign to change US policy towards Iran and to ease existing sanctions.
However, this pro-engagement lobbying coalition of US business interests needed the input and support of Iranian-American organizations for its campaign to legitimize friendlier policies toward the Iranian regime. The need to have an "Iranian voice" in Washington to promote such friendlier policies and to oppose sanctions was a sentiment shared by the Iranian regime. Thus, the common cause between American business interests and the Iranian regime helped create several Iranian-American organizations that received simultaneous support from Tehran and the trade lobby in Washington.
Financed by oil corporations, several "Iranian" organizations were created in 1997. The most influential was the American Iranian Council (AIC) led Hooshang AmirAhmadi (see AIC report) who is currently a presidential candidate in Iran and has publicly declared himself a lobbyist on Iran. (Amirahmadi's interviews here and here)
Later in 2002, AIC's director Trita Prasi founded the National Iranian American Council (NIAC), which the official Iranian press supports and labels as the "Iran lobby in US". NIAC lobbies the Congress for a friendlier policy with Iran.
In September 2012, NIAC lost a defamation lawsuit it had brought against one of its critics. The court dismissed the suit and in a second ruling, the judge punished NIAC for discovery abuses and ordered them to pay a significant part of the defendant's legal expenses.
According to NIAC's internal documents obtained during this "lawsuit", NIAC's president Trita Parsi coordinated some of his activities with the Iranian ambassador to the UN and NIAC facilitated several meetings between the US delegation and Iranian officials in 2008-2009 in Europe.
Iranian regime's plan to highjack the anti-war movement
In 2005, London based "left" and pro-Iranian regime activist Abbas Edalat founded an organization called the "Campaign Against Sanctions and Military Intervention in Iran" (CASMII) which has branches in both England and the US. CASMII takes an "anti-Imperialist" posture and is designed to attract the anti-war organizations that are mostly consisted of left activists. (see this short video documentary)
CASMII's branch in the United States was launched by NIAC's member and board members and its president Rostam Pourzal was also a NIAC member.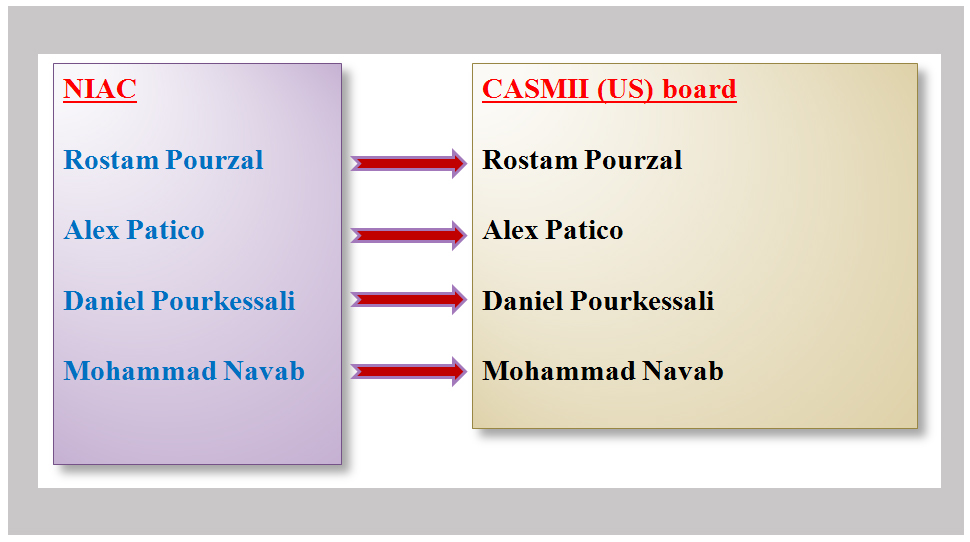 Some of NIAC's internal documents obtained during the lawsuit suggest that Edalat was Trita Parsi's partner in 2001 when they were trying to launch NIAC lobby in Washington to remove sanctions against Iran. (picture Nr. 4) Amazingly, these documents also show that Baquer Namzi from Tehran who worked with Iranian government was instructing and supporting Parsi and Edalat in their efforts to create this lobby.
Baquer Namazi was the co-director of Hamyaran, a semi-governmental organization that was created in 1998 by the Iranian government to monitor the activities of Iranian NGOs and coordinate their relationship with foreign organizations. Hamyaran was also designated by Iranian foreign ministry to coordinate relation with Iranian expatriates. The other co-director of Hamyaran was a deputy minister for 18 years until 2008.
More astoundingly,a 2007 email obtained during the aforementioned lawsuit clearly show that the same Baquer Namzi was also supporting NIAC and CASMII to recruit among the anti-war activists and create a "pressure group" in Washington. In his email, Namzi wrote to his American contacts:
"Two very good Iranian groups are working hard (NIAC) National Iranian American Council (NIAC) and the London based (CASMII) Campaign Against Sanctions and Military Intervention in Iran (CASMII). The latter had a hand in the Washington ad you shared with me... They are both also working closely together. This is really great and we know the heads of both, close friends. Trita Parsa NIAC and Abbas Edalat CASMI. Their team work and cooperation should be emulated by all of us... Once we get our act together we should try and link up to NIAC. Parker and I know Dr. Trita Parsi... Our American friends, especially yourself and Parker and Geri can help link us up with US based peace movements. Just imagine if we can work out a grand coalition for peace or the Network of Peace Networks, what a great ethical and humanitarian force, what a formidable pressure group."
Citizen diplomacy
A key part of Iran's plan to connect to the US anti-war movement and recruit among them has been the so-called "Citizen Diplomacy" to Iran. Since 2005, CASMII, NIAC and Leila Zand the director of Fellowship of Reconciliation (FOR) have selected hundreds of US activists and sent them to Iran in "peace trips" organized and monitored by the regime.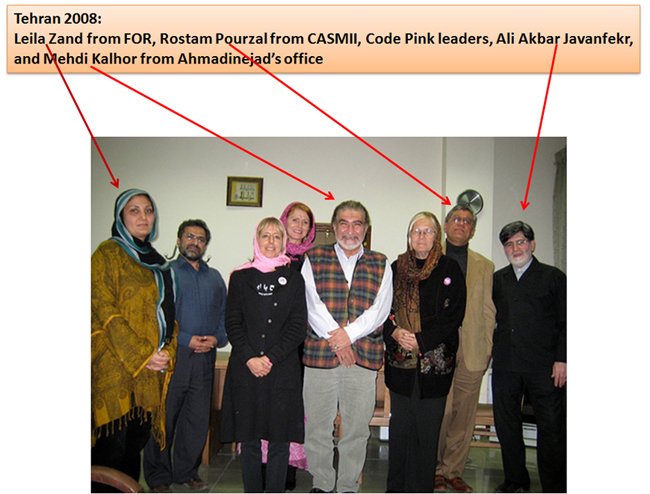 During these trips, the American visitors meet with pre-selected people, many of them regime's agents who present a soft and peaceful image of Iranian regime, that is ready for peace with the entire world but bullied by US government and deprived of its legitimate rights. The visitors meet with selected members of religious minorities who praise Iranian regime's tolerance toward the minorities.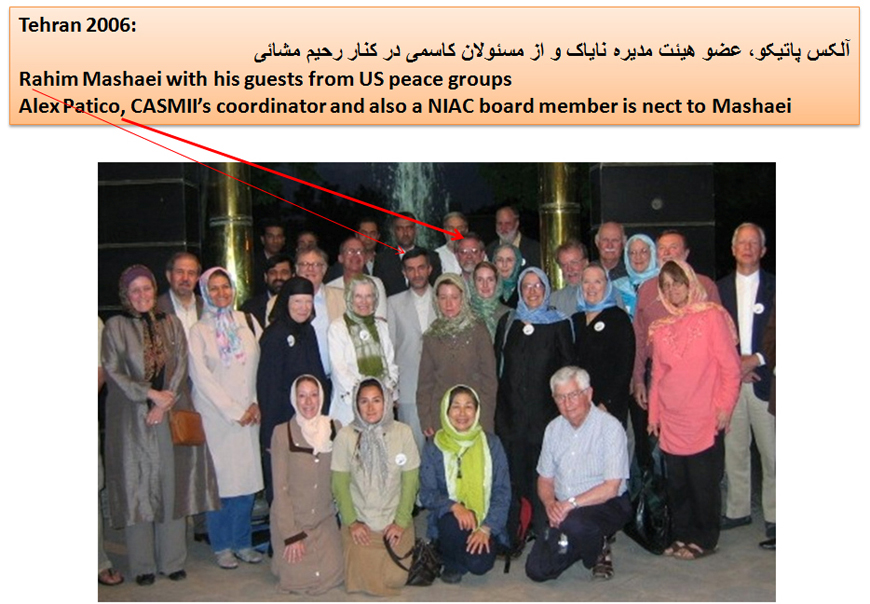 Upon their return to the US, NIAC and CASMII use these activists to tour US cities and participate in grass root lobby to promote Iranian regime's talking points.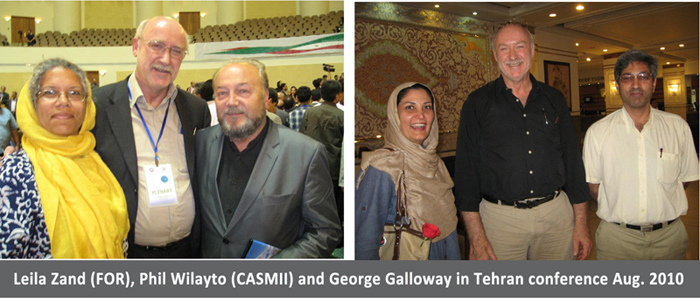 CASMII and FOR work with AN
While a cursory review of CASMII and NIAC's activities to manipulate the anti-war movement show their clear penchant for the Iranian regime, one particular event in 2010 removed any remaining doubt about CASMII's close ties to Iranian government.
In 2010, after the Iranian popular uprising and the regime's brutal crackdown, the Ahmadinejad government organized a three day conference in Tehran for the Iranian expatriates and foreign guests to display their support to the regime.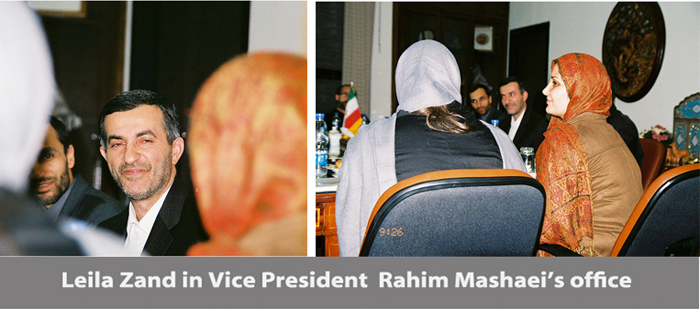 Not only did CASMII and Leila Zand (FOR director) actively campaigned to bring guests to Iran, they were also among the key speakers of the event. Public documents posted by Ahmadinejad's office show that CASMII and FOR hosted two of the event's workshops which discussed practical ways to "defend Iran" and oppose "US pressure against Iran." Other speakers at these two workshops were also CASMII board members in Britain and the US. This is clear and unequivocal proof that CASMII and FOR work for Ahmadinejad's office.
NIAC's pivotal role
As we discussed earlier, Baquer Namazi who directed a semi-governmental organization in Tehran sent an email to his American friends in the peace movement and emphasized the pivotal role of NIAC to use the anti-war movement and create a pressure group in Washington. Namazi wrote: "Once we get our act together we should try and link up to NIAC. Parker and I know Dr. Trita Parsi."
Furthermore, the Iranian regime and the governmental press echoed their support to NIAC and Trita Parsi. For example, in September 2006, Faramarze Fathnejad , the head of the Iran's Interest Section in Washington, went back to Tehran and personally promoted Parsi's position. He met with a semi-governmental organization and "underlined the importance of relation with Iranian organizations in the U.S. and specially pointed to NIAC and his young leader who is a consultant to CNN and has been very successful in his efforts." (see documents here, slide 2)
NIAC was officially founded in 2002 by Trita Parsi and its primary goal is to remove sanctions and ease pressures against Iran. In his letter to his partner and Washington lobbyist, Parsi explained the nature of his lobby:
Although the mission of the proposed lobby should be to improve relations between the US and Iran and open up opportunities for trade, the initial targets should be less controversial issues such as visas and racial profiling/discrimination...Despite its predominantly business oriented constituency, it is essential that the lobby creates a "human face" for its aims and goals. AIPAC successfully painted the opponents of the Iran Libya Sanctions Act as "greedy businessmen who had no scruples when it came to doing business with terrorist regimes." The oil companies failed to characterize their campaign with "human concern for the well-being of innocent Iranians stuck with a dictatorial regime" or "support for the poor mid-Western family father who lost his job due the sanctions. The human element is essential both when it comes to attracting support among Iranian-Americans and when it comes to winning the debate and the votes on the Hill.
In fact, NIAC's anti-war schemes seem to provide a "human face" for this anti-sanction and pro-trade lobby organization. For almost ten years, Trita Parsi worked closely with the corrupted Congressman Bob Ney. (see documents)
Ney was one of the most outspoken warmongering politicians in Washington who made a name for himself by campaigning to change our name for French Fries to Freedom Fries simply because France opposed the US invasion of Iraq in 2003. For ten years between 1997 till 2006 (when Ney was sent to jail), Parsi was his foreign policy advisor on Middle East and Iran.
Hijacking the peace movement
One of the documents obtained during the lawsuit is a 2007 report sent by Trita Parsi to his Tehran-based lobby partner Siamak Namazi. In this report, Parsi explained the activities of anti-war organizations in Washington and gave some suggestions to transform this movementinto an anti-sanction pressure group in Washington. It should be noted that Siamak Namazi, who received Parsi's report, was at the time partner and managing director of the Tehran-based Atieh Bahar, a company that helped foreign companies do business with the Iranian regime. Atieh has multiple business ties with the Iranian government.
In his report entitledthe "lobby groups" Parsi wrote:
As of early 2005, Washington's heated rhetoric over Iran has attracted the attention of a variety of interest groups eager to prevent the escalation of tensions in the Middle East and the prospects of a war between the US and Iran. These groups have managed to build unprecedented support in Congress in favor of dialogue and against military action among progressive Democrats as well as conservative Republicans on Capitol Hill.
This coalition of pro-dialogue and anti-war entities consists of a diverse group of organizations ranging from arms control organizations, to Iranian American organizations, to religious groups. Key players in this coalition are the Center for Arms Control and Nonproliferation, which coordinates a coalition of approximately 50 organizations, MoveOn and the National Iranian American Council.
While these groups have focused extensively on passing measures to reduce the risk for war with Iran, little attention has been paid to efforts to intensify sanctions against Iran. Furthermore, while a momentum exists for anti-war measures, no comparable opportunity exists currently for an anti-sanctions campaign. Nor is the coalition of disarmament, religious and progressive groups best suited to take on this issue. Here, the absence of pro-business interests on Capitol Hill active constitutes a key point of advantage for AIPAC.
Parsi explained the importance of bringing in the pro-trade lobby group and notably USA*Engage:
With the exception of USA Engage, American businesses and oil companies have after September 11 next to eliminated their efforts on Capitol Hill in favor of greater trade and contacts with Iran.
USA Engage is a coalition of approximately 500 major US companies which has retained a distant interest in the Iran issue, though the coalition has devoted little resources towards promoting trade or preventing new sanctions from being imposed. In particular, the recently imposed UN sanctions have granted the sanctions track with Iran new legitimacy and made efforts to oppose such measures on trade grounds more difficult.
However, initial efforts are currently being made to make align the trade groups with the pro-dialogue coalition and frame sanctions an initial step that invariably will lead to war. If such a coalition of pro-trade and pro-dialogue groups can be formed, the current momentum for sanctions may be significantly hampered.
Conclusion
The balance of power on Capitol Hill is currently shifted in favor of sanctions on Iran but against military action. AIPAC continues to seek both military strikes against Iran and draconian sanctions and has benefited from the absence of active lobbying by pro-trade groups. A change in heart by pro-trade coalitions may significantly hamper efforts to have Congress impose new draconian sanctions on Iran. This is great significance since Congressional sanctions are far more difficult to undo than those imposed by the Executive Branch.
This coalition that Parsi mentioned in his report is the "Campaign for a New American Policy on Iran" (CNAPI) that for the past several years has been intensively lobbying for a friendlier policy toward Iran. In 2008, NIAC became the coordinator of this coalition that included USA*Engage (pro-trade lobby), Open Society, CAIR, peace and religious groups. CASMII and FOR, two organizations that have worked closely with Ahmadinejad's office, were also members of this coalition.
Some of CNAP's documents were obtained during the lawsuit and are posted here and here.
Analogy with Iraq
There is a lot of difference between opposing war with Iran and becoming an ardent defender of the Iranian regime or lobbying in Washington to promote Iranian policies . Some segments of US "left" and anti-war groups have effectively traversed this path, and NIAC's campaign has played a significant role in their transformation.
NIAC's multi-faceted campaign has been trying to present the Iranian regime as a victim of US warmongering policies. This campaign has profited from the US invasion of Iraq and the WMD dilemma. It began by targeting the Bush administration but continues five years into Obama's presidency.
By presenting the Iranian regime as a victim, masking the threat posed by Iran to US national security, and the threats to peace in the region, this campaign has effectively influenced public opinion, diminished the US administration's ability to counter Iranian hegemonic drive in the region and furthered the Iranian regime's strategic goals.
In one of NIAC's internal documents obtained during the lawsuit, we clearly see how NIAC manipulates the public opinion and equates legitimate US concern with a plan to attack Iran. In this document, NIAC explains (not without exaggeration) how they tried to neutralize the administration's drive to stop the flow of Iranian IEDs and arms to Iraq that according the US military commanders under Bush and Obama have killed hundreds of American soldiers.
"On January 10, 2007, President Bush addressed the nation to discuss his policies in Iraq. In that speech, the President said the following: "Iran is providing material support for attacks on American troops. We will disrupt the attacks on our forces. We'll interrupt the flow of support from Iran and Syria. And we will seek out and destroy the networks providing advanced weaponry and training to our enemies in Iraq."
On January 12, NIAC produced a widely distributed analysis, "Bush's Iraq Plan - Goading Iran into War." It pointed out the weakness of the Administration's strategy and argued that rather than fixing Iraq, the new strategy seemed more about goading Iran into war by targeting Iranian targets and diplomats in Iraq. NIAC pushed the analysis extensively with the media, with great results. The angle was picked up quickly by New York Times and the Boston Globe, where parts of NIAC's analysis were repeated verbatim. Soon enough, pointed questions were asked at the White House press briefings and within a few days, the idea that the Bush Administration was seeking to goad Iran into war became part of the mainstream narrative."
Accordingly, NIAC and its lobby partners in the anti-war movement continue to present Iran as a victim of US warmongering and as a result, oppose any kind of pressure or sanction against Iran. NIAC argues these sanctions are not justified and are paving the road for a military attack against Iran.
The Israeli decoy
The invasion of Iraq in 2003 revived the public debate about the Israeli influence on US policy in the Middle East. NIAC and its lobby partners have been able to hijack this debate and morph it into a campaign to blame Israel for the US-Iran impasse. Israel is depicted as the spoiler of US-Iran relations. The pro-Israeli lobby (AIPAC) is presented as the bullying organization that forces the US administration to follow the Israeli demands, to ignore Iranian readiness for compromise and therefore maintain a hostile attitude toward Iran. Anti-AIPAC and anti-Israeli forces play an important role in the Iranian pro-engagement lobby.
The champion of this campaign has been Trita Parsi who depicts Israel as the main hurdle preventing any possible rapprochement between Iran and the US, because "From the Israeli perspective, every step Washington takes toward Tehran is a step away from Tel Aviv." Israel is "the sole force behind the lobby efforts to impose and extend the sanctions" against Iran and is "forcing Congress to pursue a policy that contradicts US interest."
In 2007, Trita Parsi published a book titled Treacherous Alliance – The Secret Dealings of Israel, Iran and the US. The book impacted and shaped the debate about Israeli influence on US policy.
Parsi's book is a story with three main actors: the guilty party, the accomplice, and the victim-- Israel, the US and Iran respectively.
Israel is the guilty character because of its illegitimate and self-serving interests. It has been preventing a US-Iran rapprochement and therefore caused a series of harmful consequences in the region that have gravely damaged the US strategic interests and deteriorated the regional security.
The second player is the United States, a passive character that bows to Israeli pressure and adopts the policy dictated by Israel at the expense of American national interests. The US ignores the Iranian overtures for dialogue because of Israeli bullying.
The third personage is Iran which continues the pre-Revolution pragmatic and nationalistic foreign policy of the Shah. Despite its harsh rhetoric, Iran remained neutral toward Israel until 1991 when the Jewish state started its policy of isolating Iran. Iran does not pose a threat either to Israel or to the US. It is seeking its legitimate place in the Middle Ease, a place it has been prevented from attaining because of Israeli actions. (See this report)
For Parsi, the Iranian nuclear issue is a perfect example of how Israel has bullied the US and international community to accept the dictates of the Jewish state. According to Parsi, Iran is in compliance with its rights granted by international treaties (NTP). But, Israel has compelled the US and Europe to accept the Israeli redlines (and not international redlines) and counter Iran's legitimate program. He wrote:
•For more than 14 years, Israel has been the primary force countering Iran's nuclear advances. Though Israel presents the prospect of a nuclear Iran as a global rather than an Israeli problem, it has compelled Washington to adopt its own red lines and not those of the non-proliferation treaty (NPT) "A challenge to Israel's strategic primacy" )
•"With the issue of Iran's nuclear program being taken up by the U.N. Security Council, Israel's hawkish policy and AIPAC's support for Bush administration hard-liners would appear to be paying dividends. (A Modus Vivendi Between Jerusalem and Tehran", Forward, March 17, 2006)
This report reflects the opinion of Iranian American Forum editors. This opinion is made after thorough examination of public documents. We welcome open discussion and encourage the readers to send us their comments, corrections and objections.